Celebrities Share Their Touching Advice To Their Younger Selves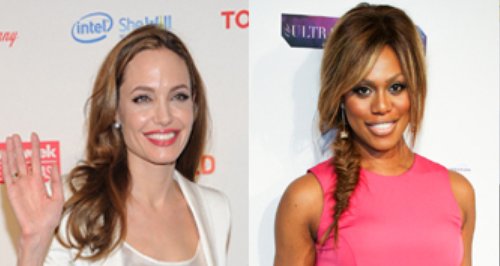 From laughing at yourself more, to letting yourself be vulnerable, to loving yourself and keeping two feet on the ground, these successful ladies have all got something to say to their former mini-mes. Taking time to learn to appreciate yourself for who you are is one of life's toughest lessons and we could totally learn from them...
Taylor Swift may still only be 25-years-old, but so much of her musical material is based on her own past experiences that she has lots of valuable lessons to share with the rest of us:
"I think I would just tell her to do exactly what she was doing.
Have an imagination, get your feelings hurt, get your hopes up and be let down and dream about things and imagine the possibilities," she told Keds' Bravehearts campaign.
"Yeah, you're going to get hurt along the way, but you're also going to feel things and you're going to learn things and you're gonna figure out which friends you can trust and keep those ones close to you. And I think that's what life is about."
Meanwhile, Taylor Swift admits she wishes she'd have laughed more as a teenager, adding, "You have to laugh when you're humiliated, when you're rejected… At a certain point you have to be able to turn whatever bad experience you have into a funny dinner party joke."
We were sure that after 40 years in theindustry and 20 years of marriage, Sarah Jessica Parker (50) would be brimming with pearls of wisdom she'd go back and tell her younger self...
However, not so… "Don't ever let other people's opinion of you be your opinion of yourself," she said, adding, "It's so necessary to have those experiences. You would think you'd tell yourself A, B and C relative to those things, but the truth is, you wouldn't do it any other way."
Another famous lady who's seemingly conquered the world and insists she wouldn't "change anything" is mother of six Angelina Jolie. She would however, encourage her former child self would be to backpack around the world: "I would probably say enjoy the freedom as much as you possibly can before it goes away."
The 40-year-old agrees with Sarah Jessica Parker: "You can never prepare for the future… make bold choices and make mistakes, and it's all those things that add up to the person you later become."
Meanwhile, famous red head Julia Roberts (48) would encourage her younger self not to worry so much about look and to celebrate natural beauty rather than cosmetics: "be happy with your natural curls".
46-year-old Jennifer Lopez has also opened up to her teenage self, urging her to, "Keep your feet on the ground, don't forget who you are, and love yourself – appreciate yourself."
Actress Halle Berry (49) wishes she had been more relaxed during her youth, saying, "Everything happens for a reason. The highs. The lows. It's all for a higher development. And I would not stress about the down times. That's part of one's evolution".
Inspirational 31-year-old transgender 'Orange is the New Black' star Laverne Cox has also opened up to her teenage self, gently explaining, "know you are beautiful", adding, "You are not crazy for knowing you are a girl... This is an acknowledgement of God's plan for you."
Meanwhile, Carrie fisher (59) admits she's finally learnt that in the battle between love and career, always choose love: "If there's a choice between companionship and anything else—especially career—choose companionship. It's the only thing that has the potential to last."
59-year-old funny lady Whoppie Goldberg hilariously wishes she could tell herself to "Stay out of your own way."