Alan Carr Tells How He Thought Adele Was DEAD During A Stay At His House!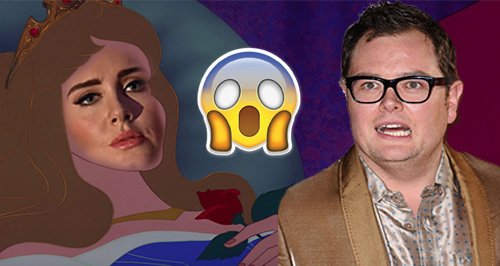 You can't make this story up! Alan Carr spills the beans in a preview of his new book Alanatomy, and it will leave you in hysterics...
Alan Carr and Adele are the ULTIMATE best friend goals!
Following her break up and around the time of her album 21, the 28-year-old singer crashed at the 40-year-old funnyman's house for a little while.
In a preview chapter of his new book Alanatomy, which is being serialised in The Sun, the star joked how Adele was almost lifeless.
He wrote. 'Although she had purged her feelings in 21 she was still cut up about her ex and completely inconsolable.'
Apparently he grew worried about her she still didn't emerge from her room over time despite him leaving food and tea outside the door for her - a bit like a concerned mum!
When Alan's partner Paul asked if they should go in and check if she's OK, he joked ''I daren't. What if she's dead?!"
He continued 'Would we get a plaque? Could we turn it into a museum? Would we have busloads of Adele fans tying wreaths to our knocker?'
LOL! Thankfully Adele was all ok and pulled a disappearing act because she was heartbroken and not for the morbid reason he joked about!
Poor Adele! If her songs are anything to go by we know how tough that break up was, and we have ALL been there...
Luckily she has a HILARIOUS friend like Alan to cheer her up when she's down!