Celebrities Pay Tribute To British Actor Alan Rickman Who Has Died Aged 69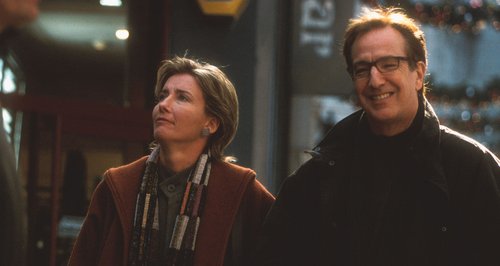 Harry Potter author JK Rowling, co-stars Emma Watson and Emma Thompson are amongst the stars who are paying tributes to the late actor, Alan Rickman.
The much-loved star of stage, TV and film has died aged 69, his family have confirmed on Thursday (today).
The British actor had been suffering a secret battle with cancer.
A family statement said: "The actor and director Alan Rickman has died from cancer at the age of 69. He was surrounded by family and friends."
Alan had one of the most recognisable voices in film and played some of the memorable characters, such as Professor Snape in Harry Potter, Hans Gruber in Die Hard and Harry in Richard Curtis' Love Actually.
The star won a BAFTA, Golden Globe, Emmy and Screen Actors Guild award in a career which began in the late 1970s.
Read more: Watch Alan Rickman in Alice Through The Looking Glass To Be Released May 2016
JK Rowling
There are no words to express how shocked and devastated I am to hear of Alan Rickman's death. He was a magnificent actor & a wonderful man.

— J.K. Rowling (@jk_rowling) January 14, 2016
My thoughts are with Rima and the rest of Alan's family. We have all lost a great talent. They have lost part of their hearts.

— J.K. Rowling (@jk_rowling) January 14, 2016
Emma Thompson
Alan appeared in over seven films with his friend Emma Thompson, such as Love Actually.
"Alan was my friend and so this is hard to write because I have just kissed him goodbye. What I remember most in this moment of painful leave-taking is his humor, intelligence, wisdom and kindness. His capacity to fell you with a look or lift you with a word. The intransigence which made him the great artist he was—his ineffable and cynical wit, the clarity with which he saw most things, including me, and the fact that he never spared me the view. I learned a lot from him. He was the finest of actors and directors. I couldn't wait to see what he was going to do with his face next. I consider myself hugely privileged to have worked with him so many times and to have been directed by him.He was the ultimate ally. In life, art and politics. I trusted him absolutely. He was, above all things, a rare and unique human being and we shall not see his like again."
Kate Winslet
Kate and Alan's most famous work together was in Sense and Sensibility.
"Alan was an exceptionally warm and giving man and an utterly phenomenal actor and gifted director. I remember being so intimidated by him when we worked together when I was 19 [in Sense and Sensibility], because he had such a powerful and commanding presence. And that voice! Oh, that voice … But the reality of course, was that he was the kindest and best of men. He had the patience of a saint. He was a warm-hearted puppy dog, who would do anything for anyone if it made them happy."
Emma Watson

As a young actress, Emma played Hermione in the Harry Potter series, while Alan played her professor, Severus Snape.
I'm very sad to hear about Alan today. I feel so lucky to have worked and spent time with such a special man and actor. I'll really miss our conversations. RIP Alan. We love you

Posted by Emma Watson on Thursday, 14 January 2016
Sir Ian McKellen
Harriet Walter
"The world and his wife knows what a wonderful actor he was, but Alan was also a wonderful friend and a real bringer-together of people. You felt honoured and elevated to be cared about by him. It was a very holistic friendship. He was the most generous man I ever met. You wanted to do your best work for him – we all did. You would ask yourself: "What would Alan think of this?" He had such intelligence – and a sense of perspective on acting and how important the work was. The first time I worked with him, he was Trigorin and I was Lily in an Irish version of The Seagull at the Royal Court in 1981. I'd never seen him before and he just knocked me sideways. He had a completely different energy – he could be very languid and then click into a ferociousness. I think he saw everything I ever did on stage. He was always at the theatre and would go backstage and meet everyone. He was a mentor and a brother figure to a generation of us."
Patrick Stewart
"Alan was perhaps our most distinctive and unique stage and film performer, with a voice and phrasing that teased and taunted, mocked and despaired. I first worked with him at the RSC in Peter Brook's 1978 production of Antony and Cleopatra, with Glenda Jackson. As the Major-Domo of Cleopatra's court he was commanding, witty and cynical. His world-weary tolerance of those around him stays with me vividly. He is irreplaceable."
Dame Helen Mirren
Picture | PA
"Alan was a towering person – physically, mentally and as an artist. He was utterly distinctive, with a voice that could suggest honey or a hidden stiletto blade, and the profile of a Roman emperor. He was also a great friend, generous and social. He will be very missed by many."
The news comes just days after the death of David Bowie, who also died from cancer aged 69.