Watch: Hugh Jackman Brings Back The ALS Ice Bucket Challenge!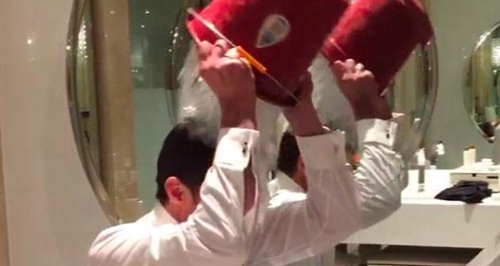 Watch the 'Wolverine' star revive the ALS Ice Bucket challenge and look back at the all celebs who took on the chilly shower in a bid to raise awareness of motor neurone disease.
It had to be one of the biggest internet trends ever, as a host of stars took to Instagram to take bucket in the hair-raising, toe-curling challenge which saw them pour a bucket of ice cold water over themselves before nominating a pal.
Now, Hugh Jackman has kicked off the chilly challenge this year, after being absent from the string of viral videos last year.
The video sees the 'wolverine' star dressed in a dapper suit before drenching himself in ice cold water. Brrr.....
Who will be next?
ALS ICE BUCKET CHALLENGE HIGHLIGHTS FROM 2014!
Our very own Emma took on the ice bucket challenge like a champ following her nomination from 'Celebrity Juice' host Keith Lemon, however, Victoria Beckham didn't seem to take too well to the freezing temperatures.
The former Spice Girl had seemed reluctant to accept the challenge after being nominated by Eva Longoria, but after three days she finally submitted to the task and received a double bucket soaking from her husband David, and their sons, Brooklyn Romeo and Cruz.
Meanwhile, Cheryl looked like she had just participated in a wet t-shirt contest after she received a soaking from her husband Jean Fernandez Versini. The blonde beauty was seen telling her beau "just do it!" as she pepped herself up for the freezing cold task which was given to her by Simon Cowell.
Simon had previously been seen giggling when soaked by his girlfriend Lauren Silverman in a hilarious video before nominating Cheryl and fellow 'X Factor' judges, Louis Walsh and Mel B to do the same.
Elsewhere, Fifty Shades Of Grey' star Jamie Dornan treated fans to a video of him receiving an ice cold shower (probably what most fans did when watching his steamy trailer!) after being nominated to complete the task by Eddie Redmayne.
The hunky actor is seen alongside 'Les Miserables' star for a double whammy and although they both keep their shirts on, fans are still able to get a cheeky glimpse at Jamie's abs through his soaked clothing.
Emma Bunton
Victoria Beckham
Cheryl Fernandez-Versini
Jaime Dornan and Eddie Redmayne
David Beckham
Simon Cowell
Eva Longoria
Jennifer Lopez
Benedict Cumberbatch
Britney Spears
Oprah Winfrey
Justin Bieber
Nina Dobrev
Robbie Williams