Remember The Ice Bucket Challenge? Well It's Actually Made A MASSIVE Medical Breakthrough!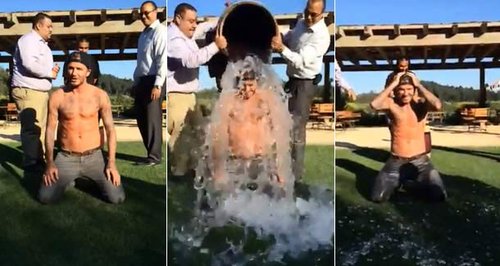 Viral videos which saw the likes of Victoria Beckham and Simon Cowell getting drenched did some good after all...
Whether you did the ice bucket challenge or not, the chances are you probably had videos of friends being drenched in ice cold water clogging up your Facebook timeline.
The likes of Victoria Beckham, Simon Cowell and Justin Bieber were just a few of the big A-list names who took part in the chilling task which sees a person drenched in a bucket of ice cold water before nominating three friends to take on the challenge in a video clip posted to Instagram or Youtube.
Well, two years on and the viral videos have actually done a whole lot of good!
The viral campaign, which aimed to raise awareness of motor neurone disease ALS, has help fund a massive breakthrough in medical research after raising a whopping $115 million (£87.7 million).
Despite the fact the highly publicised stunt was criticised at the time, the money raised has funded six research projects and scientists have now identified a new gene contributing to the disease, NEK1.
The identification of gene NEK1 means scientists can now develop a gene therapy treating it, which could save thousands of lives.
We guess every little bit really does help!