WATCH! Amanda Holden's Embarrassing Fail Interviewing Astronaut Tim Peake
26 October 2017, 16:23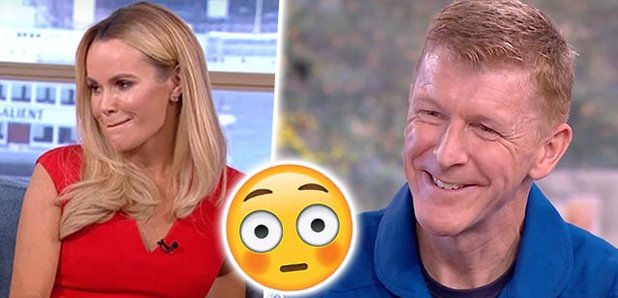 Oh Amanda.
Poor Amanda Holden made a bit of a boo-boo during her This Morning presenting duties.
The BGT judge is taking the reigns of the show alongside Ben Shephard, whilst Holly and Phil take a half-term break.
The duo were joined by astronaut Tim Peake, who spent 6 months in space from the end of 2015 to mid-2016. His journey was so well documented that we were even treated to a New Year's message from him at the International Space Station, which was broadcast on TV.
Amanda must have missed this (and quite possibly every other single bit of coverage) when she asked Major Peake a rather embarrassingly inaccurate question.
She asked 'When you went to the moon did you take a piece of the moon and bring it back home with you? Are you allowed to?'

To which Tim Peake politely replied "So I wasn't on the moon, I was in the Space Station."
Ah.
Quickly trying to cover up the blunder, Amanda then continued her questioning with a follow-up in the form of: "So you never got off? There was nothing floating about that you could steal?"
The good-natured astronaut explained that no, due to a highly controlled environment, he did not, and no, there was not.
Fans of the programme were not so polite in glossing over Amanda's slip-up:
Omg I can't believe Amanda Holden just asked Tim Peake if he brought back anything from the moon #ThisMorning

— Tony (@toonehh) October 26, 2017
Amanda really should have done some research on today's guests...asking Tim Peake if he brought back a piece of the moon #ThisMorning

— Kimberley Clitheroe (@TillyMint91) October 26, 2017
Amanda Holden just asked @astro_timpeake if he brought anything back from the moon. #ThisMorning. I just can't..... I just can't.

— thisiskerrie (@kjapplin) October 26, 2017
Some went full force on the mockery:
Amanda will want to know how ET got home #ThisMorning

— Phantom flan flinger (@phantom_flinger) October 26, 2017
Well, at least Amanda has learned something new today...!