Amanda Holden in tears as she reveals heartbreak at losing stillborn baby
24 May 2018, 09:05 | Updated: 12 July 2018, 13:59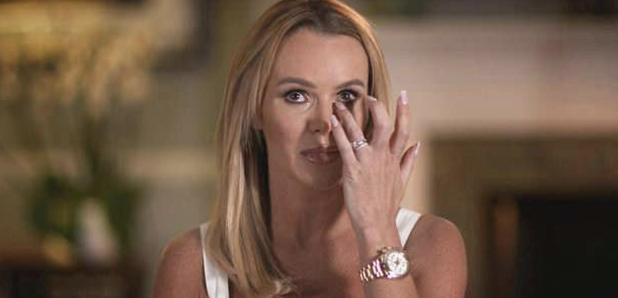 The Britain's Got Talent judge says her stillborn son, Theo, will always be a part of her family in an emotional new interview airing tonight.
Amanda and her husband Chris Hughes, who have daughters Lexi, 12, and six-year-old Hollie together, were left devastated when they tragically lost Theo seven years ago, and she will forever be grateful for the kindness of the medical team who got them through their ordeal.

She recalled: "[Theo] looked so normal and so peaceful. I held him in my arms and I said goodbye, basically.

"But I couldn't have done it without the incredible team around us. My husband was so strong and so amazing but they got him through it too.

"And then the days and months afterwards, the same team of people checked on us every single day and it's not because I'm off the telly or famous or anything like that.

"I believe they'd have extended that care to any woman, any family, in my situation.

"I'll literally do anything for the National Health Service because they got me through it, they got Chris through it and I now thankfully have two healthy girls and a little boy who is still part of the family but just not here."

Amanda - who had suffered a miscarriage the year before - recalled how the moments after the stillbirth were like an "out-of-body experience" because she didn't realise it was her that was screaming.

She reflected: "I just remember hearing this woman just screaming and screaming and then it was actually -- it was me, I realised it was me that was screaming.

"It was the most surreal, out-of-body experience and I was actually calling my daughter's name because I was just terrified about what to tell Lexi at the time."

Despite the tragedy, the 47-year-old star was determined to have another child, though Chris was initially "frightened" of history repeating itself.

Speaking on ITV's 'Tonight' in an interview airing this evening, she said: "It was horrific in the months after Theo.

"My husband was frightened of having another child, he never wanted to see me go through that pain again -- and himself.

"But I knew in order to carry on and live life, I had to have a baby and I was lucky enough to have the choice and be able to have another one."

And when she did fall pregnant with Hollie, Amanda was terrified that something could go wrong.

She admitted: "I'd be on the phone saying, 'My baby's not going to die, is it? This baby's not going to die?' "