10 Ways 'America's Got Talent' Is Way More Hardcore Than 'Britain's Got Talent'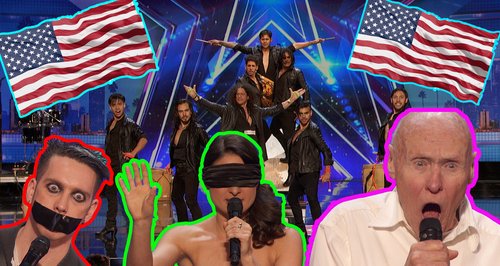 It's bigger, bolder and even more bonkers than 'Britain's Got Talent' and we've got the evidence to prove it!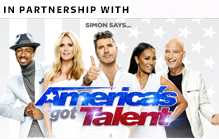 If you thought you'd seen everything on 'Britain's Got Talent' you obviously haven't watched the brilliant 'America's Got Talent'!
Having been on the air for more than a decade, 'America's Got Talent' has unearthed some incredible talents...but also some weird and wonderful acts who have to been seen to be believed.
Here are a few reasons why 'America's Got Talent' is on another level to our home-grown version...
Dogs don't just dance, they flamenco
We may have had Ashleigh and Pudsey, but America has José and his dancing dog Carrie. Not only does she hop, skip and run around, but she manages some sweet flamenco moves with her tail. If this doesn't tempt you, we can also tell you she's wearing a rather fetching black dress...
The prize money is INSANE
Acts in the UK are given £250,000 and a chance to perform in-front of the Royal Family at the annual Royal Variety Performance. In the States, winning acts are given a whopping $1million and a headline show on the Las Vegas strip...now that's not to be sniffed at!
Things go spectacularly wrong...
Circus performer and professional ladder climber Uzeyer Novruzov took a dangerous tumble in the last season of 'America's Got Talent', forcing the judges to jump up out of their seats and the performance to come to a dramatic halt. Hold your breath and watch the moment for yourself...
They have high profile 'guest' judges
Season 11 of 'America's Got Talent' will feature a very special extra on the judging panel... One Direction's Louis Tomlinson. Simon Cowell has roped in the star to add a little bit of gravitas to proceedings, although he's apparently been giving some rather odd comments. He reportedly told one act, "My nipples are sore watching that". Errmmm, what?!
OAPs don't just sing...they sing heavy metal
The new series of 'America's Got Talent' includes a fresh dose of talented oldies, but there was one 82-year-old who stopped the judges in their tracks with his heavy metal stylings. Watch the incredible moment from season 11 and keep your eyes glued on Simon's face. It's hilarious!
Forget shadow dancing and watch THIS...
2013 'Britain's Got Talent' winners Attraction may have wowed the crowds with their shadow dancing routines, but can they really compare to this 3D mega-performance by Freelusion? The judges are literally stalked by a monstrous machine...
Acts are so big they need the whole of NYC to perform!
Motorbike act Metal Mulish Fitz Army needed the massive back-drop of New York to show off their skills, which basically involves death defying stunts on powerful bikes. There's also been a complete horse gymnastics act, stunt skydiving, a waterskiing 'flyboarder', and one chap even jumped from the height of an 18-storey building! We'll stick with comfy theatres...
Even toddlers have talent
From pensioners to toddlers, it seems people of all ages and all walks of life have stepped onto the 'America's Got Talent' stage. A perfect example is five-year-old Heavenly Joy, who did an adorable version of 'In Summer' from 'Frozen'. Look at her cute little moves in the video...
Ventriloquism is better with LIVE animals
We're all used to those brilliant ventriloquist who use weird and wonderful puppets to bring characters to life...but we've never seen it done with a live animal before. 'America's Got Talent' Wild Card entrant Todd Oliver uses his pet dog to create the most living, breathing ventriloquism act we've ever seen! Go on, give it a watch.
And finally...the acts are even weirder than normal!
We thought we'd seen everything on 'Britain's Got Talent', but then we saw Twiggy the squirrel waterskiing and we decided, yes, we have now officially seen it all! We feel like this needs some Benny Hill music behind it...
'Americas Got Talent' may be brilliant, but we've got the legend that is Susan Boyle. Beat that!
Watch Season 11 of 'America's Got Talent' on truTV on Tuesday nights at 8pm. Simon Cowell has also returned to the show, so you just know he's going to have a few wicked remarks to doll out...
Who will win the $1million this year? Well, you'll have to watch and find out won't you!