A Decade Of 'America's Got Talent' Winners... Do They Beat Our 'BGT' Stars?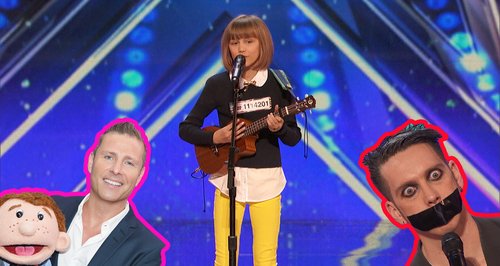 'America's Got Talent' is back for its 11th season, but how do the winners from across the pond compare to 'Britain's Got Talent' stars? We're on a mission to find out...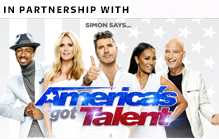 This entertainment phenomenon has been on the air for more than a decade...and it's safe to say there have been some wild, weird and wonderful acts along the way.
Here's our rundown of the winning stars from season one all the way through to season 10, plus some comparisons with our home-grown acts on 'Britain's Got Talent'. Do our magicians, ventriloquists, opera singers, gymnasts and dancers stack up to the American stars? Or have our friends across the pond got us beat?
Take a look below and decide for yourself...
Season 1: Vocal powerhouse Bianca Ryan
This 11-year-old singer wowed with her mature, powerful voice in the debut season of 'America's Got Talent' in 2006. One of her most impressive performances was a cover of Janis Joplin's classic 'Piece of my Heart'...
Okay, so Bianca is absolutely incredible, but we still have a soft spot for Connie Talbot, who stole the hearts of the nation with her rendition of 'Somewhere Over the Rainbow' aged just seven in 'Britain's Got Talent' series one. Now she's a 15-year-old YouTube star and continues to make music.
Season 2: Singing ventriloquist Terry Fator
Terry combined celebrity impressions, singing and ventriloquism in his incredible act, which was enough to win the $1million prize money in 2007. Watch him belt out some soul tunes, without even moving his lips...
We love this, but who remembers 'Britain's Got Talent' winners Attraction, who wowed the public with their shadow theatre performances in 2013? We reckon our 'Britain's Got Talent' stars can hold their own!
Season 3: Operatic genius Neal E. Boyd
Neal is an incredible opera singer with the heartwarming backstory that we all know and love! He proved so popular that he stormed his way to the winner's podium in season three of 'America's Got Talent' in 2008. There are some serious operatic classics in the video...
We love Neal, but we think 'Britain's Got Talent' has got it covered when it comes to opera singers. Paul Potts won the very first series of BGT in 2007, and James Corden played him in a movie about his life!!
And who can forget Susan Boyle, whose life changed forever when she belted out 'I Dreamed a Dream' from Les Mis in 2009. Britain 1. America 0!
Season 4: Kevin Skinner is a country music superstar
Kevin was down on his luck when he stepped onto the 'America's Got Talent' stage in 2009, but he soon turned his life around when he was crowned the winner of the show! He's the perfect example of 'don't judge a book by its cover'.
Season 5: Be swept away by Michael Grimm
He had a few stumbles along the way, even risking being disqualified after his Vegas Week call back performance went well over the 90 second time limit, but he succeeded in the end. Since the show he's released an album, got married and opened for rock 'n' roll legend Stevie Nicks. Not bad, eh?
'Britain's Got Talent' has also spawned some fantastic singer-songwriter talent, including Jai McDowall who won series five of the show in 2011. Sadly, he dropped out of the music scene when his debut album 'Believe' failed to make it in the charts.
Season 6: Landau Eugene Murphy Jnr does Frank Sinatra proud
The judges couldn't get enough of Landau's voice, especially his Rat Pack-inspired covers of 'My Way', 'Fly Me to the Moon' and 'I've Got the World on a String'. Watch him croon with the best of them here...
Landau is absolutely incredible, but we have a soft spot for 'Britain's Got Talent' stars Collabro who won the show in series eight. We still get tingles up our spine thinking of their version of 'Stars' from Les Mis!
Season 7: Olate Dogs prove toy poodles are perfection
Who doesn't love a dancing dog? What about a whole troupe of dancing dogs? This is exactly what gave Olate Dogs the edge in season seven of 'America's Got Talent', including some nifty dog skipping rope tricks! This has to be seen to be believed...
We have to admit this is very impressive and those pups look like they're having a whale of a time, but we have to side with Ashleigh and Pudsey who are our ultimate dancing dog act. Do you remember their 'Flinstones' themed audition...awwwww. And what about Jules O'Dwyer and her dog Matisse who won the show in series nine- they were fantastic too!
Season 8: Kenichi Ebina is a martial arts whizz
Kenichi merged martial arts, dance and mime into one fantastic act...he does things with your body that you have to see to believe!
We've also had our fair share of dancers in 'Britain's Got Talent', including street dance star George Sampson who won the second series of the show. And how can we forget Diversity who went on to have sell-out tours, TV shows and performance schedules!
Season 9: Storytelling magician Mat Franco
Mat managed to combine charisma, card ticks and storytelling into one fantastic magic act, which included some extra special sleight of hand. He impressed the American public so much he won the show in 2014! Watch him show off his mind-boggling skills...just don't expect to know how he's done it!
Magician and upstanding military gent Richard Jones won 'Britain's Got Talent' this year, and his act has some similarities to American winner Mat. In the final, he performed a monologue and set of tricks inspired by Fergus Anckorn - a former prisoner of war and the oldest member of the Magic Circle!
Season 10: Paul Zerdin is the ultimate Brit abroad!
If this name rings a bell, you're probably not alone, as Paul is a British ventriloquist who excelled across the pond. His puppet characters include naughty Sam, OAP Albert and an infant named Baby...no, seriously!
Watch Season 11 of 'America's Got Talent' on truTV on Tuesday nights at 8pm. Simon Cowell has also returned to the show, so you just know he's going to have a few wicked remarks to doll out...
Who will win the $1million this year? Well, you'll have to watch and find out won't you!