Andrea Mclean Shares Stunning Wedding Snaps After Marrying Hubby Number 3
1 December 2017, 12:08 | Updated: 23 August 2018, 16:58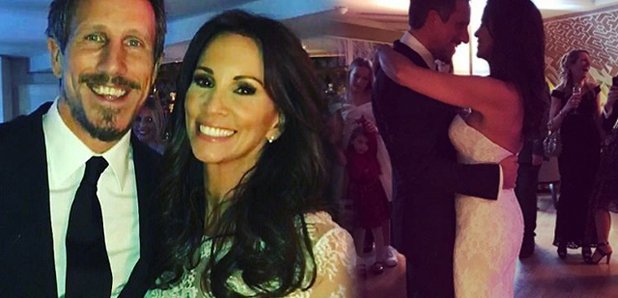 The 48-year-old television personality looked every inch the blushing bride in a strapless gown as she partied with her Loose Women co-stars.
Loose Women's Andrea McClean has given fans a glimpse inside her stunning wedding.
The 48-year-old television personality looked every inch the blushing bride in a strapless gown as she tied the knot for the third time to Nick Feeney.
The brunette beauty's tiny waist was hugged by the body contouring lace dress which fell into a fishtail design on the floor, and her loosely curled hair cascaded her shoulders.
She clutched a bouquet of white and pink roses in one hand, whilst she held onto her new husband with the other.

Keen to shake a leg, Andrea was also seen partying with her Loose Women co-stars at the wedding reception.
Other pictures show the couple gazing into each other's eyes as Andrea threw her arms around Nick's neck for their first dance.
Ahead of their nuptials, Andrea shared a post with fans in which she praised her partner Nick for fixing her broken heart as they prepared to tie the knot on the same day that they met, four years ago following a blind date.
She posted: 'The best day of our lives has begun. I'm so happy that from today Nick and I will be walking through life hand in hand, side by side.
"I didn't dare hope that I would find love again when all seemed lost, and the world felt dark and sad... but four years ago today I reluctantly went on a blind date and the man who would change my life forever kissed my cheek and whispered 'I'm so nervous' in my ear. 'So am I' I whispered back.
"In four years we have talked, listened, laughed and learned to love again. My broken heart is not only fixed, it is filled to bursting."
Andrea, who had been married twice before, also spoke about the difficulties of finding love later in life but insisted it was all worth it.
She added: "I have learned that love in middle age comes with so much more... the past isn't left behind, it travels with you, and teaches you what you don't want as much as what you do.
'It brings baggage, history and scars, but over time it becomes something stronger and more solid because of all of that. I dared to dream, and today my dreams are coming true.
'I love you @lordfeeney #weddingday #truelove #happilyeverafter #dreamsdocometrue'. "
Andrea's first marriage was to her teen sweetheart Nick Green in 2000 before divorcing him in 2005, after 17 years together and having a son.

She split from her second husband Steve Toms, a DIY specialist on UKTV show Our House, in 2011, they share a daughter.