Ann Widdecombe Reunites With Anton Du Beke For One More Dance Routine!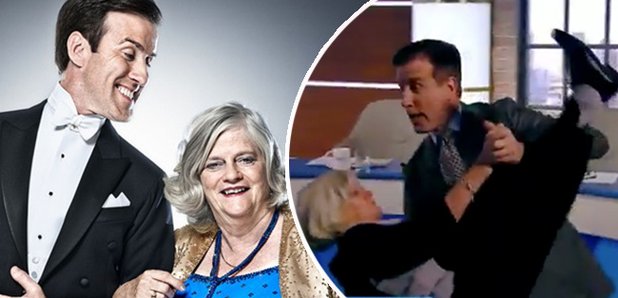 The former Strictly Come Dancing partners reunited on The Wright Stuff.
Can you believe its been a whopping EIGHT years since former MP Ann Widdecombe took to the Strictly Come Dancing ballroom alongside her professional partner, Anton Du Beke.
Lots has happened in the lives of the pair since they last waltzed together with Anton becoming a dad to twins and releasing a whole album and Ann most recently making headlines with her appearance on Celebrity Big Brother.
But fate intervened, or more accurately Matthew Wright intervened, as they were both brought together this week as guests on his daily Channel 5 morning show, the Wright Stuff.
She was on the show to defend some of the comments she made in the Celebrity Big Brother house that massively divided viewers opinions.
In defence of her words she told Matthew: 'It didn't matter how politically incorrect my views were - if they were my views I stated them,"
But the topic of conversation didn't stay heavy for too long when Anton appeared and whisked her to the centre of the studio to rekindle their Strictly moves!
The pair impressively took to their routine with what appeared to be no practice as Anton twirled Ann around the studio to the song Wild Thing which Matthew remarked was one of his favourites.
TV gold!