Did Jay Z Befriend Barry Chuckle At The Anthony Joshua Boxing Match?
2 May 2017, 16:58
Is Jay Z REALLY mates with a Chuckle Brother?! And what's next for Anthony Joshua?
Even if you're not a boxing fan, you probably saw that photo at the weekend. And it wasn't one of newly crowned world heavyweight champion Anthony Joshua celebrating his win.
This photo seemed to capture an even more momentous event – the unlikely friendship of hip hop megastar Jay Z and British comedy legend Barry Chuckle. Had their love of boxing brought these two entertainment giants together ringside? Unfortunately not.
The photo has since cruelly been revealed to be a Twitter fake – neither Jay or Barry were even at Wembley on Saturday.This is worse than finding out that Father Christmas doesn't exist!
- Read more: Joshua beats Klitschko in thrilling fight
But even if the photo which almost broke the internet ultimately proved to be a fraud, at least it gave us this moment of Twitter genius from Barry's brother Paul, when asked if he was jealous that his brother had 'partied with Jay Z':
No I was out with his Mrs https://t.co/AS5stRbYHG

— Paul Chuckle (@PaulChuckle2) May 1, 2017
There were several boxing, sports and entertainment stars actually in attendance to see the epic battle between Joshua, 27 and Wladimir Klitschko, 41. Arnold Schwarzenegger, Rio Ferdinand, Lennox Lewis, Evander Holyfield, Carl Froch, Peter Andre and Frank Bruno were all there.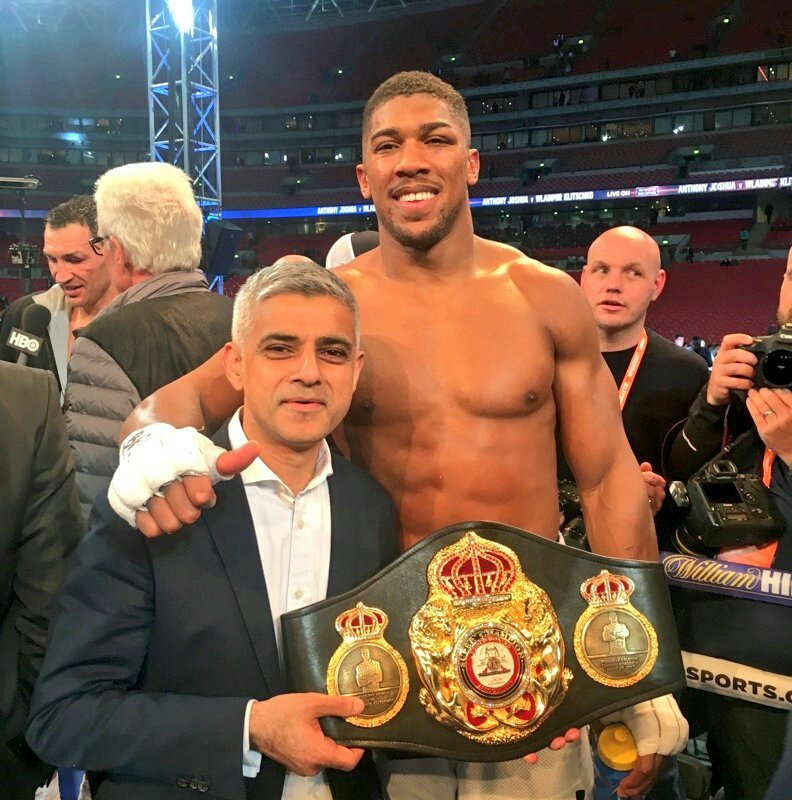 Joshua pictured with London's mayor, Sadiq Khan. Copyright: Twitter
So what next for Anthony Joshua? He'll definitely give Andy Murray a run for his money at the next BBC Sport Personality of the Year. There's also been speculation that Tyson Fury is keen to step into the ring with Joshua, who admits "Yes, it would be nice to fight a real villain."
Can we expect a rematch with Klitschko, though? "I think he will want to because a fighter is the last one to know when it's time to stop, but I think the team around him, ie his wife [Nashville star Hayden Panettiere], and they normally wear the trousers, and his brother [Vitali], they will advise him differently."
There's also the small matter of Joshua's outstanding laundry bill to deal with. The champion, who earned a whopping £15 million from this weekend's fight, has said that his first priority is to pay his outstanding £120 debt at his local launderette near the home he shares with his mum in north London. A true champ!