Ariana Grande defends fiancé Pete Davidson's sick Manchester bombing joke
6 July 2018, 13:20 | Updated: 10 October 2018, 16:28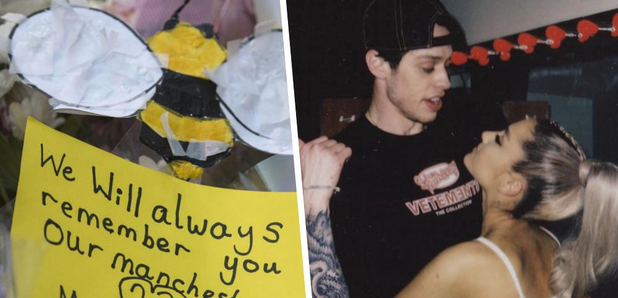 Ariana Grande is feeling "conflicted" after it emerged her fiancé made a sick joke about the bombings that killed 22 people at her concert in Manchester last year.
Ariana Grande's fiancé made a sick joke about the Manchester bombings that killed 22 of her fans... and she's standing by him.
The Mirror revealed this week that the 24-year-old comedian and Saturday Night Live host joked that Ariana, 25, must realise how famous she has become because "Britney Spears didn't have a terror attack at her concert".
The 'No Tears Left To Cry' singer was forced to defend her new beau on Twitter after a fan criticised her relationship in light of the tasteless gag.
They wrote: "I respect Ariana and I want her to be happy and everything, but she was just broken after the Manchester bombing, so I don't know why she is still with Pete, like yeah he made that joke a while ago, but like it's not funny, it's just rude. This is my opinion."
In response, Ariana wrote: "This has been v tough & conflicting on my heart.
"He [Davidson] uses comedy to help ppl [sic] feel better ab how f-ed up things in this world are. We all deal w trauma differently.
"I of course didn't find it funny. It was months ago & his intention wasn't/is never malicious but it was unfortunate."
She added: "I hear and respect you always.
Ariana's relationship with the star was widely criticised in light of the news, with many fans insisting there is no excuse for making jibes about children dying.
Representatives for Pete, whose own father died during 9/11, defended his set claiming that no subject was "off limits" when it comes to his stand up performances.
A rep told Metro: "No subject is off limits and that includes jokes about his father and 9/11."