WATCH! Artists For Grenfell Release Tear-Jerking Music Video In Memory Of Victims
22 June 2017, 07:51 | Updated: 10 October 2018, 16:28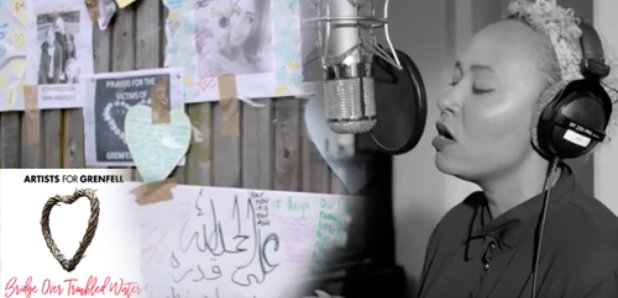 Viewers of Coronation Street last night were given a moment to reflect on the tragedy when the music video dropped on Wednesday night.
Fresh new visuals for "Bride Over Troubled Water" have been unveiled following the single's release on Wednesday morning.
Last night, Coronation Street viewers were given the chance to watch the video shortly before the long-running soap aired on ITV.
The emotional four-minute video sees a montage of footage from the scene of the tragic Grenfell Tower fire that claimed 79 lives last week, including grief-stricken members of the community, and the heroic firefighters that saved the day.
Prominent footage also displayed the montage walls outside the tower which had become a makeshift tribute wall in which people could write messages and leave flowers in memories of those who lost their lives.
The likes of Robbie Williams, Emeli Sande, James Arthur and Rita Ora all feature in the video too, with all artists filmed from the studio in black and white film footage.
All the stars collaborated on the single to raise funds for those affected by fire after Simon Cowell called on some of music's biggest names to lend their vocals for an emotional rendition of "Bridge Over Troubled Water" by Simon and Garfunkel, as a tribute to the victims.
On Sunday the stars were snapped heading towards a West London recording studio to record the track, after the X Factor boss received an outpouring of support from stars who offered up their help.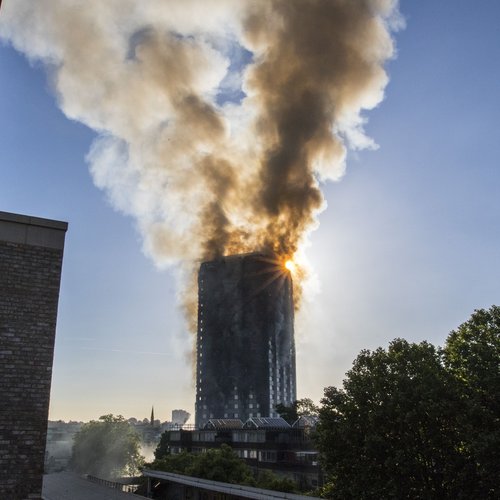 We'll be playing the single throughout the day on Heart and you can listen again on the Heart app.
All proceeds will go to Artists for Grenfell and will be distributed via The London Community Foundation.
Taking to Twitter, Simon urged his followers to support the single and make further donations via artistsforgrenfell.com.
Tomorrow at 8am across major UK radio stations, you will be able to hear Bridge Over Troubled Water. pic.twitter.com/Bgg8u6oU4N

— Simon Cowell (@SimonCowell) June 20, 2017
He wrote: "Thank you to everyone for their help and support in making this happen."
Elsewhere, Rita Ora was snapped wearing a love Grenfell t-shirt in memory of the victims.
The singer, who was featured on the track, was spotted out in New York after flying into London on Sunday to record the song.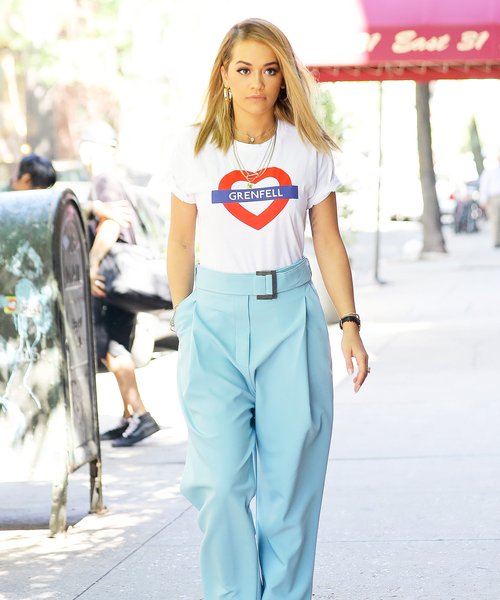 Picture: Rex
Other artists who have lent their names, and their voices, to the song include Bastille, Brian May, Ella Eyre, James Blunt, Louis Tomlinson, Nile Rodgers, X Factor winner Matt Terry and recent Britain's Got Talent winner Tokio Myers.
For the full list of Bridge Over Troubled Water lyrics see below:
"Bridge Over Troubled Water" [Stormzy Rap]
When you're weary, [Robbie Williams] feeling small,
[James Blunt] When tears are in [Rita Ora], your eyes [Craig David]
I will dry them all [Dan Bastille]
I'm on your side [Liam Payne]
When times get rough [Emeli Sande] And friends just can't be found [Kelly Jones]
Like a bridge over troubled water [Paloma Faith]
I will lay me down [Louis Tomlinson]
Like a bridge over troubled water [Labrinth]
I will lay me down [Jorja Smith]
WSTRN Rap
When you're down and out [Leona Lewis]
When you're on the street [Jessie J]
When evening falls so hard [James Arthur]
I will comfort you [Roger Daltrey]
I'll take your part [Ella Eyre]
When darkness comes [Anne Marie & Ella Henderson]
And pain is all around [Louisa Johnson]
Like a bridge over troubled water [Robbie Williams, All Voices]
I will lay me down [James Arthur]
Like a bridge over troubled water [Choir Solo]
I will lay me down [Rita Ora]