BGT Star Ashley Cries Over Loss Of Pudsey As Britain Mourns Their Favourite Dog
24 July 2017, 14:51 | Updated: 23 August 2018, 16:58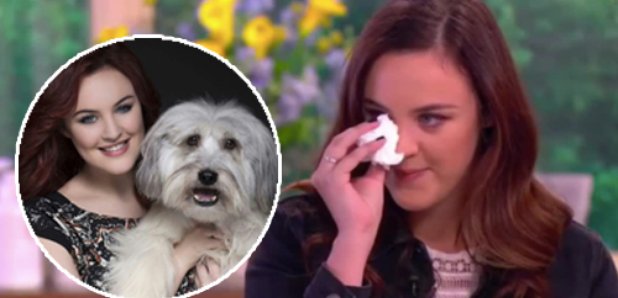 The young dog trainer says making the decision to put down her loyal companion was the "hardest" decision she ever had to make.
Britain's Got Talent fans have shown sent their condolences to Ashleigh.. after she revealed her pet dog and co-star Pudsey has passed away after suffering from "acute leukaemia".
The talented dog handler appeared on the 'This Morning' sofa for an emotional interview with Holly Willoughby and Philip Schofield, during which she broke down in tears as she grieved her pet who died at 11 years old.
Recalling the moment she realised Pudsey wasn't well, she said: "I was at a dog show with him last weekend. On the Monday he wasn't himself and was sleeping a lot. I took him to the vets on Tuesday and between Tuesday and Thursday he went downhill so quickly.
"On the Thursday it got to the point where he couldn't even lift his head."
Viewers were left close to tears as a montage of smiling photos of the duo together flashed across the screen.
Ashleigh sobbed: "He gave me opportunities that I never thought I'd ever have."
Pudsey won over the nation after starring alongside Ashleigh on Britain's Got Talent in 2012, where they bought joy to viewers each week with their a choreographed routines.
The duo went onto win the coveted £100,000 prize money in addition to performing at the Royal Variety Show, where they met the Queen.
Ashleigh and Pudsey went on to earn a whopping 1.5 million following their stint on the talent show and even landed a movie about the adorable pooch, who was a border collie, bichon frise, Chinese crested powderpuff cross.
However, the interview took a positive turn when Ashleigh introduced her new pooch Sully as Pudsey's replacement.
Sully will stay as Sully. I can't change him into Pudsey. He grew up with Pudsey. Sully really looked up to him."
The dog, who bares a strikingly similar resemblance to Pudsey, is currently the dog world agility champion and won the small dogs agility jumping round at Crufts in March.
@Ashleigh_Pudsey watching @thismorning. # gutted.#pudseythedog. My heart breaks for you.

— Karen Gemmell (@KarenMcclintoc3) July 24, 2017
Having a little cry seeing the pain of losing #pudseythedog @itvthismorning

— old boozer (@OldBoozer) July 24, 2017
Ashleigh announced the news on Instagram with a solemn post devoted to her canine companion.
Ashleigh said: "After Pudsey's short battle against leukaemia, I had to make the hardest decision of my life to let my beautiful boy go to sleep. "From the minute he was born he brought nothing but joy to me and, as a winner of BGT, millions of others who adored him too.
"No words can express just how much I will miss him."
We'll miss you too Pudsey!