This Baby Looks EXACTLY Like Gordon Ramsay, And The Chef Himself Agrees!
30 October 2017, 12:12 | Updated: 30 October 2017, 12:14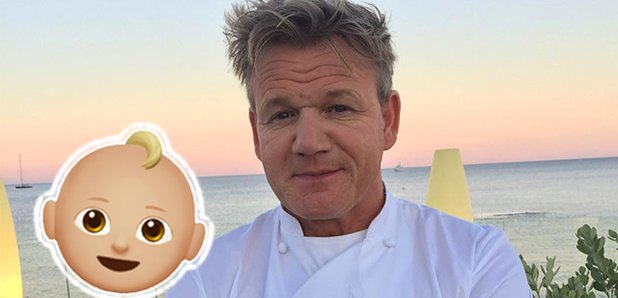 Which one's Gordon and which one's the baby?!
We love it when a baby looks like a celebrity.
Singer/songwriter John Legend has many newborn dopplegangers and we never fail to laugh at the likeness.
And we especially love it when his wife Chrissy Teigan has to beg fans to STOP sending her pictures, as there are just too many of them in the world (those two are ultimate #couplegoals):
For the LAST TIME, JOHN looks like a baby so A LOT OF BABIES LOOK LIKE HIM STOP SENDING ME JOHN BABIES

— christine teigen (@chrissyteigen) 4 July 2017
But now Gordon Ramsay is the latest celeb to have a baby lookalike!
Twitter user Olivia posted this picture to the celebrity chef's timeline:
Why does my nephew look like @GordonRamsay pic.twitter.com/aVxIqrusLc

— Olivia (@OliviaTheOcelot) 28 October 2017
Same blonde hair? Tick. Same furrowed brow? Tick. Same unimpressed facial expression? Tick!
Famed for his potty mouth and his cutting remarks, Ramsay fans acknowledged the uncanny similarities and found it hilarious:
This kids first words are gonna be "w-w-w-WHERES THE LAMB SAUCE!!!"

— spooky magic (@PrimisRulz115) 29 October 2017
I can already see him disapprove of the baby food being fed to him...

— Matches Malone (@Deadpool47) 29 October 2017
he looks more Gordon Ramsay than Gordon Ramsay

— grace (@_graceeee__) 30 October 2017
Even Ramsay himself piped up:
Poor kid ! https://t.co/0C2Cwjy6gQ

— Gordon Ramsay (@GordonRamsay) 28 October 2017
We hope that this little one will end up with less of a temper than than Ramsay, but his culinary skills would be a great thing to develop!
WATCH: David Beckham And Gordon Ramsay Go Head To Head!