BAFTA Film Awards 2015 Winners! Eddie Redmayne Wins Big!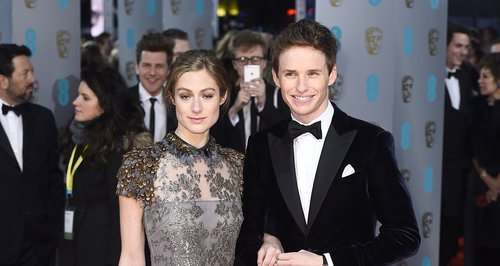 The 'Theory of Everything' star described the awards ceremony as "one of the best nights of my life" as he picked up the Best Actor gong for his role as Professor Stephen Hawking, who was also there to support the cast, when the film scooped THREE of the biggest accolades.
Speaking on his win, an emotional Eddie said: "I want to thank [the Hawking family] for their trust, their generosity and their kindness.
"And for reminding me of the great strength that comes from having the will to live a full and passionate life."
In addition to an Award for Best Actor, 'The Theory Of Everything' also picked up awards for Best British Film and Adapted Screenplay but Eddie's co-star Felicity Jones walked away empty handed after losing out to Julianne Moore, in the Best Actress category.
Moore's critically acclaimed role as an Alzheimer's sufferer in 'Still Alice' means that she and Redmayne are hotly tipped to scoop awards at the Oscars this month.
Coming of age drama 'Boyhood' - shot over 12 years with the same cast - was also named Best Film, with Richard Linklater picking up best director prize.
It was a good night for 'The Grand Budapest Hotel' which picked up five awards overall, but failed to nab gongs for any of the major categories.
Benedict Cumberbatch was among those snubbed at the ceremony as 'The Imitation Game', about WW2 enigma codebreaker Alan Turing, failed to win in a single catagory.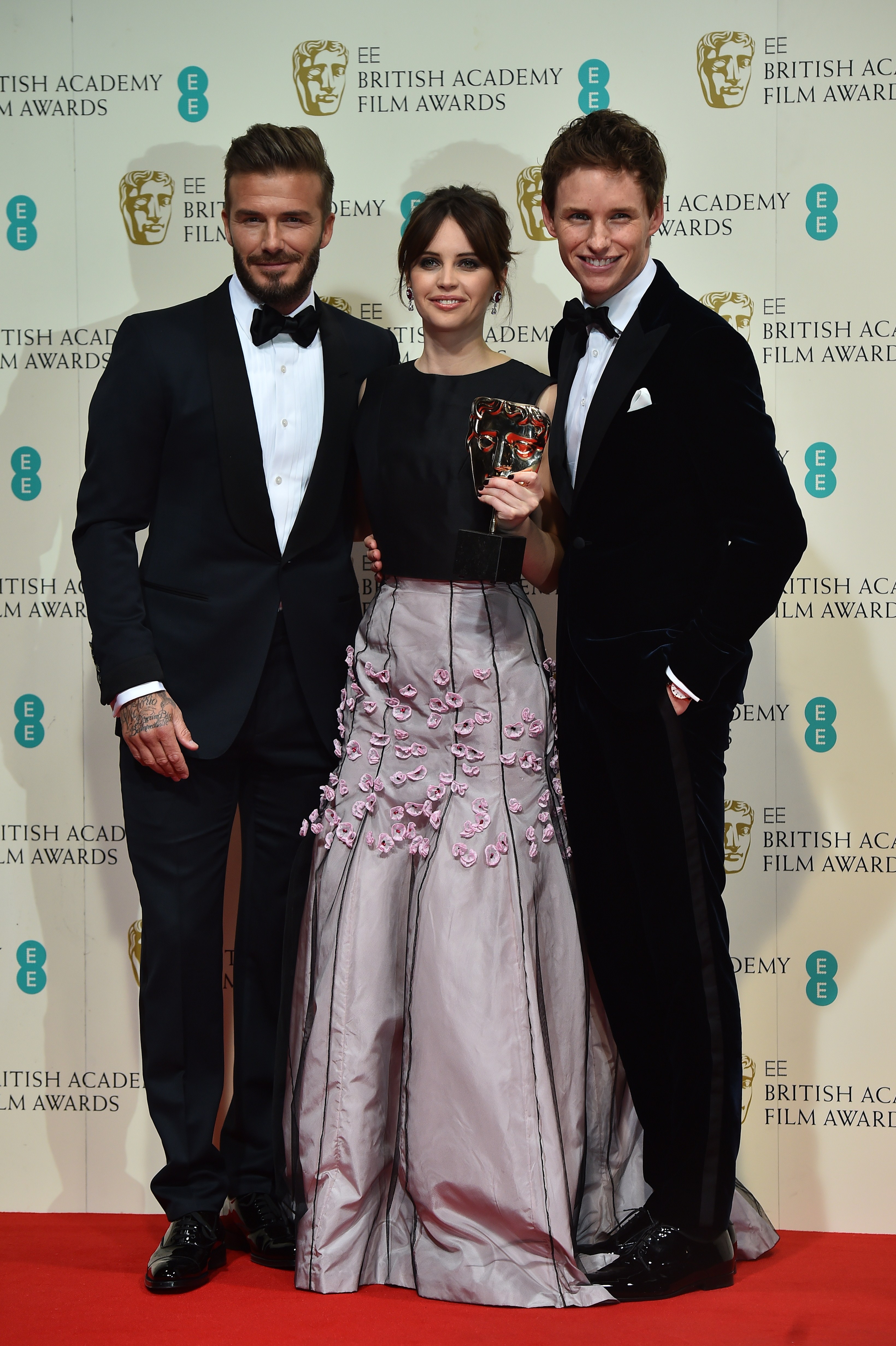 David Beckham, Felicity Jones and Eddie Redmayne
The result doesn't fare well for the actor as he prepares to go head-to-head with Eddie Redmayne in the Best Actor category at the 87th Academy Awards.
Meanwhile, a star-studded guest list descended upon Royal Opera House, with the likes of David Beckham and last minute addition Tom Cruise all in attendance as newlywed Stephen Fry hosted the ceremony for the 10th year running.
List of the the BAFTA Film Award 2015 Winners:
(Winners in bold)
LEADING ACTOR
BENEDICT CUMBERBATCH The Imitation Game
EDDIE REDMAYNE The Theory of Everything
JAKE GYLLENHAAL Nightcrawler
MICHAEL KEATON Birdman
RALPH FIENNES The Grand Budapest Hotel
LEADING ACTRESS
AMY ADAMS Big Eyes
FELICITY JONES The Theory of Everything
JULIANNE MOORE Still Alice
REESE WITHERSPOON Wild
ROSAMUND PIKE Gone Girl
SUPPORTING ACTOR
EDWARD NORTON Birdman
ETHAN HAWKE Boyhood
J.K. SIMMONS Whiplash
MARK RUFFALO Foxcatcher
STEVE CARELL Foxcatcher
SUPPORTING ACTRESS
EMMA STONE Birdman
IMELDA STAUNTON Pride
KEIRA KNIGHTLEY The Imitation Game
PATRICIA ARQUETTE Boyhood
RENE RUSSO Nightcrawler
BEST FILM
BIRDMAN Alejandro G. Iñárritu, John Lesher, James W. Skotchdopole
BOYHOOD Richard Linklater, Cathleen Sutherland
THE GRAND BUDAPEST HOTEL Wes Anderson, Scott Rudin, Steven Rales, Jeremy Dawson
THE IMITATION GAME Nora Grossman, Ido Ostrowsky, Teddy Schwarzman
THE THEORY OF EVERYTHING Tim Bevan, Eric Fellner, Lisa Bruce, Anthony McCarten
OUTSTANDING BRITISH FILM
'71 Yann Demange, Angus Lamont, Robin Gutch, Gregory Burke
THE IMITATION GAME Morten Tyldum, Nora Grossman, Ido Ostrowsky, Teddy Schwarzman, Graham Moore
PADDINGTON Paul King, David Heyman
PRIDE Matthew Warchus, David Livingstone, Stephen Beresford
THE THEORY OF EVERYTHING James Marsh, Tim Bevan, Eric Fellner, Lisa Bruce, Anthony McCarten
UNDER THE SKIN Jonathan Glazer, James Wilson, Nick Wechsler, Walter Campbell
ANIMATED FILM
BIG HERO 6 Don Hall, Chris Williams
THE BOXTROLLS Anthony Stacchi, Graham Annable
THE LEGO MOVIE Phil Lord, Christopher Miller
DIRECTOR
BIRDMAN Alejandro G. Iñárritu
BOYHOOD Richard Linklater
THE GRAND BUDAPEST HOTEL Wes Anderson
THE THEORY OF EVERYTHING James Marsh
WHIPLASH Damien Chazelle
ORIGINAL SCREENPLAY
BIRDMAN Alejandro G. Iñárritu, Nicolás Giacobone, Alexander Dinelaris Jr, Armando Bo
BOYHOOD Richard Linklater
THE GRAND BUDAPEST HOTEL Wes Anderson
NIGHTCRAWLER Dan Gilroy
WHIPLASH Damien Chazelle
ADAPTED SCREENPLAY
AMERICAN SNIPER Jason Hall
GONE GIRL Gillian Flynn
THE IMITATION GAME Graham Moore
PADDINGTON Paul King
THE THEORY OF EVERYTHING Anthony McCarten
DOCUMENTARY
20 FEET FROM STARDOM Morgan Neville, Caitrin Rogers, Gil Friesen
20,000 DAYS ON EARTH Iain Forsyth, Jane Pollard
CITIZENFOUR Laura Poitras
FINDING VIVIAN MAIER John Maloof, Charlie Siskel
VIRUNGA Orlando von Einsiedel, Joanna Natasegara