WATCH! Bananarama Will Perform For The First Time In 30 Years At This Iconic Venue
9 May 2017, 14:48 | Updated: 9 May 2017, 14:56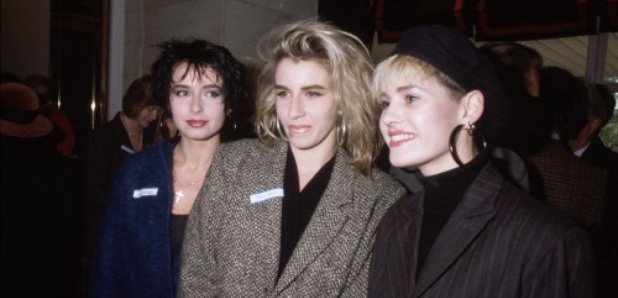 The whole trio is returning for a 15-date tour this winter.
The girl band of our hey day have returned to the stage for the first time in nearly three decades on Wednesday night for Tonight At The Palladium.
All of the original members, Keren Woodward, Sara Dallin and Siobhan Fahey will take centre stage as they perform 'Venus' at the legendary venue, and boy do they look fantastic!
Decked out in all black outfits, the girls look younger than their years as they boogie down to their best song.
The news comes after it was announced that Siobhan Fahey, who left the group in 1988, would be reuniting with fellow members Sara Dallin and Keren Woodward for a UK tour in November and December.
A picture of the trio was shared on Bananarama's official Twitter page with the message: "Miss Fahey is BACK! We're so excited to be going on tour this Nov/Dec Sign up to our new website bananarama.co.uk."
The 'It Ain't What You Do' band had 10 top 10 hits during their heyday, though Siobhan left due to creative differences and went on to form Shakespears Sister.
Speaking about the impending reunion, Sara told The Sun: "We first had a chat about it over Christmas and before we knew it the whole thing snowballed. Keren and I called Siobhan to chat about it and things went from there."
Siobhan added: "By the time I managed to come over to talk about it, somehow it had become a done deal, the dates had been scheduled and we had a photoshoot arranged. It's pretty nerve-wracking for me – it was 29 years ago that I left, so I'm rusty, to say the least.
"I didn't say 'Yes' immediately. I was in complete shock, but my heart felt a sense of absolute joy and I just felt it was the right time in my life. Emotionally it felt like something I needed to revisit, to go back to my roots and that time with my best friends. We're going to go back and celebrate that extraordinary life we led together in our twenties."
The reunion will see the 40-million-record-selling band embark on a string of 15 dates. Fans are so excited that they crashed Bananarama's website when the tour was announced! It kicks off at Glasgow SEC Armadillo on November 12.