Moves Like Beckham! Brooklyn Shows Off His Dance Moves To Justin Timberlake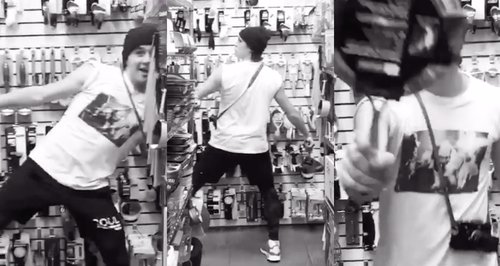 It looks like he might be taking after his mum!
He's 17-years-old and he's already got himself a Hollywood movie star girlfriend, a sweet Mercedes C-Class and a kickass fashion photography career with Burberry. And now he's showing off his killer dance moves.
Brooklyn couldn't resist breaking into a dance to Justin Timberlake's 'Can't Stop The Feeling' whilst out shopping for kitchenware and he posted the sidestepping video to his Instagram account.
He did get a little shy at the end and hid his face behind a frying pan saying: "No, no, no - stop, stop" to the person filming him.
Okay, so he's not got the best dance moves ever, but who cares when your dad is David Beckham and your mum is Victoria Beckham?