Beyonce's EPIC Performance At Daughter's School Will Give You Chills!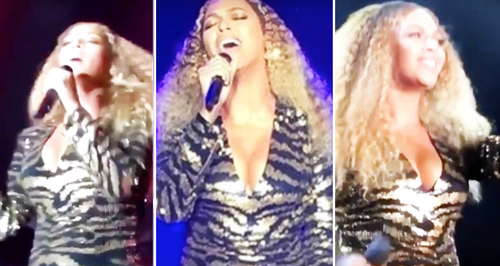 Blue Ivy Carter was undoubtedly the coolest girl in class when her mother took to the stage to perform a impromptu rendition of Whitney Houston's 'I Will Always Love You.'
Beyonce proved she is the sassiest parent ever when she put on a surprise gig for children and parents at her daughter Blue Ivy Carter's school fundraiser.
The four-year-old tot would have earned major cool points from her peers after her mum gave a stunning performance of 'I Will Always Love You' by the late Whitney Houston at the Center for Early Education's 75th Anniversary Gala in Los Angeles.
Lucky concert-goers were also treated to a number of Bey's own hits too as she sashayed around the stage in a dazzling glitter dress.
The highlight for many, no doubt, was the part where Beyoncé asked for crowd participation.
Of course the show-stopping performance didn't stop there, as Beyonce went onto to perform her own hits including 'XO' and 'Crazy In Love' with the help of a few back up dancers.
We're sure Blue Ivy was VERY popular when she returned to school on Monday morning!