Justin Bieber and Katy Perry Lead Support To Boy Whose Devastating Bullying Vid Went Viral
15 December 2017, 07:59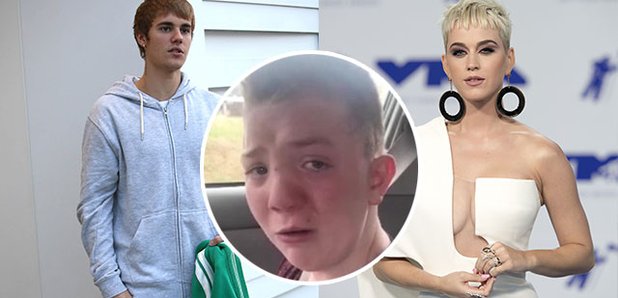 The emotional video has been viewed over 22 million times has a number of celebs backing Keaton Jones.
After Keaton Jones' release of an emotional video about being bullied went viral, a wave of celebrities have given their support.
In tears, the 11-year-old is seen asking: "Why do they bully?" as he explains that the kids in his school call him "ugly", tease him about his nose, and have thrown milk over him in the canteen.
Following the video, the likes of Justin Bieber and Katy Perry have sent their love to Keaton on their social media pages, in admiration of his bravery.
Justin Bieber posted a video on his Instagram calling Keaton a "legend" and explaining: "The fact that he still has sympathy and compassion for other people when he's going through it himself is a testament to who he is."
Meanwhile Katy Perry tweeted: "This broke my heart today" and urged people to "Please be kind to one another".
Despite all the support he's received however, Keaton confessed on This Morning, that he hasn't been to school since.
His mother Kimberley explained that it's his own choice saying: "He has maintained the entire time, even at its highest high – when, you know, the whole world wanted to come and eat lunch with him – that he didn't want to go back to school."
Talking about his video she added: "After seeing how big it got, I mean, it just seems like maybe we should let it die down a little bit before we made any decisions, so we could kind of have a reality of what it was going to be like."
Meanwhile, Greg Clay, who is the principle of Keaton's school which does not tolerate bullying has come forward saying: "It's not as rampant as the video would have you believe.
"I can't tell you what was done, but I can tell you action was taken with the children."
Hang in there, Keaton. Sending our love and support!
Watch more: