Binky Reveals A Big Baby Blunder She Made Left Her Running To Her Mum!
4 January 2018, 09:05 | Updated: 4 January 2018, 09:11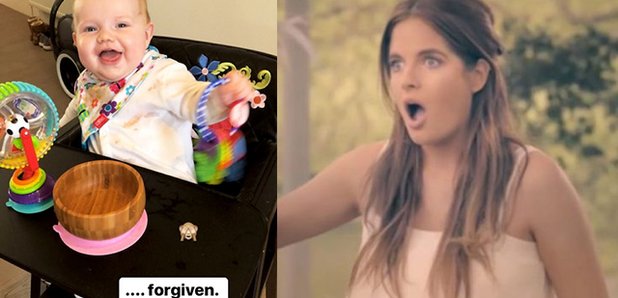 The gaffe made her vow to never put the bins out again.
Binky Felstead will never put her bins out again after she accidentally locked her baby daughter inside their house.
The ex-Made in Chelsea star left her six-month-old girl in her bouncer whilst she quickly rushed outside to do the job which is normally that of baby India's dad and fellow MIC star Joshua 'JP' Patterson.
But instead he popped to the gym and left Binky locked out with India still inside!
The 27-year-old beauty documented her "first mummy meltdown" on her Instagram on Wednesday and shared with fans how she had to run bare foot to her mums house round the corner from her home in Chelsea and was left with cut feet.
Thankfully, little India was "safe" and sound in her chair the whole time.
In a series of Instagram Story videos, Binky shared: "My first mummy meltdown just happened. I was doing the bins, which is supposed to be Josh's job, but he's typically gone to the gym."
"I heard the door slam behind me and I was locked out with no keys, no phone and no shoes. India was in here on her own - luckily in her bouncer - so she was quite safe. I had to run to my mum's as fast as I could to get the key."
Showing her sore feet, she said: "My feet are cut to pieces, everyone thought I looked like a mad woman."
The 'Born in Chelsea' star is going to let her partner do the chore in the future, to avoid any further mishaps.
She concluded: "Luckily all was OK. So basically I'm never doing the bins again."
Oh Binky!