WATCH Couple Prove Anything Goes As They Take On Bizarre Internet Challenge During Labour!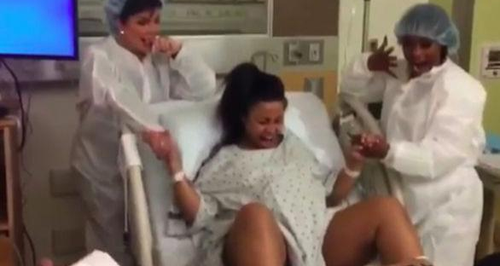 Rob Kardashian and his girlfriend Blac Chyna prove there are no boundaries when it comes to childbirth.
One couple decided to take the mannequin challenge one step further by doing it during labour.
Kim Kardashian's little brother, Rob welcomed his first child with girlfriend Blac Chyna on Thursday, but she decided to take the unconventional approach when it came to delivering their daughter Dream Kardashian.
While most couples chose to spend the nail-biting experience with just their loved ones, Rob and Chyna, who star their own self-titled spin-off E! reality series, opted to share their experience with the world by participating in the internet's latest viral craze which sees people standing frozen in a variety of poses.
Taking to Snapchat live from the delivery room, Blac Chyna is seen posing as if she's screaming in agony while her mother Tokyo Toni and Rob's mother Kris Jenner stand looking visibly shocked by the ordeal. Also in frame is Rob himself, who is seen kneeling at the edge of the bed, while various other member's of Chyna's family are seen taking pictures and gasping at the expectant mother.
Would you share videos from the delivery room?