WATCH! Blue Ivy Hilariously Shushes Parents Beyonce And Jay Z At The Grammys
29 January 2018, 10:37 | Updated: 29 January 2018, 15:55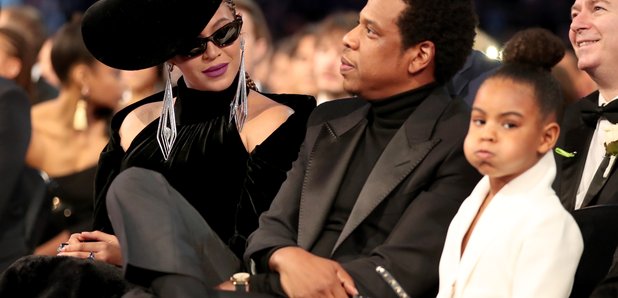 No one can believe how sassy Blue Ivy Carter, 6, behaved at the Grammy's last night.
It's not every year that a child is invited to the Grammy's, but when your parents are Jay-Z and Beyonce you can probably guarantee that you'll be invited for life.
At last night's star studded music awards Blue Ivy Carter seriously outshone her mum and dad!
She was the talk of the internet after she was caught on camera telling her parents to be quiet during singer Camilla Cabello's speech.
Perhaps she's a fan!
Blue Ivy is everything! #GRAMMYs pic.twitter.com/JSxtyGORhU

— billboard (@billboard) January 29, 2018
In the short clip you can see Jay and Bey clapping before an unimpressed Blue Ivy turns to each of them and tells them to shush to which both parents look pretty taken aback.
Twitter went wild after the clip went viral and many are speculating that Blue is the true queen of the Carter household...and she's only 6!
Blue Ivy really is in charge of the Carter Household. #Grammys pic.twitter.com/M29kMw1vGR

— Jessie Woo(@Jessiewoo_) January 29, 2018
It's Blue Ivy's world, they just living in it.

— Beige ting/Raksu (@WoahRaegan_x) January 29, 2018
We're sure she's the only person in the world that would be able to tell Beyonce to be quiet with such confidence - they've created a little diva!
In other Grammy's news, Bruno Mars won most of the big awards on the night including Album Of The Year for 24K Magic and Song Of The Year for That's What I Like.
Watch more: