Baby Prince George's Diary Will Have You Crying With Laughter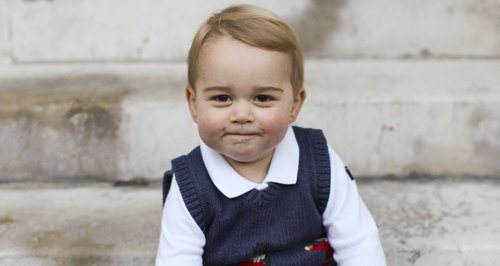 The future heir to the throne and all round cutie is given a voice as Clare Bennet publishes a comedy book called 'The Prince George Diaries'.
At just two-years old, Prince William and Kate Middleton's eldest child is barely old enough to string two words together, let alone write a diary but it would seem that this cheeky chappie has done just that...
Not really! However, Clare Bennet has published a satirical, comedy book called 'The Prince George Diaries' which tells the fictional comings and goings of the Royal family.
According to publishers, The Prince George Diaries is a no-holds-barred exclusive never-before-seen fly-on-the-wall, behind the scenes rollercoaster exposé written from the inside.
I believe they call this 'a moment'. The first copy of my first book :)))))) pic.twitter.com/wq9lVY5ZxG

— Clare Bennett (@ClareVMB) October 9, 2015
However, George's position as the world's most influential baby is suddenly under threat, following the shocking news that he's going to have a sibling. He knows how to be a media superstar. He doesn't know how to be a brother. What will the future hold now an imposter looms large on the horizon...?
George uses the codename 'Ringo' to describe Princess Charlotte, and in an entry on May 2, 'George' writes, "RINGO IS HERE. And it's a she."
Preparing for the much anticipated hospital visit to meet his sister, he fails to listen to the advice of his mood analyst, who suggests he "smiles in a nothing-about-this-worries-me-way," explaining himself: "No smiling as I wanted to keep them guessing. It works for Victoria Beckham."
Does this sound like your kind of book? It will be on sale to the public from November 5th 2015. We reckon this is one to look out for!