'Twilight' VS 'Fifty Shades Of Grey' As Edward And Bella Get A Gender Swap!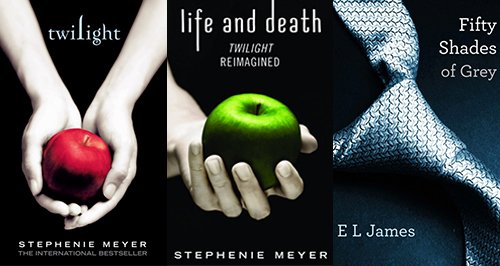 A war of words has broken out on Twitter between fans of Stephenie Meyer's new 'Twilight' spin-off and EL James' 'Fifty Shades of Grey'...
To celebrate the 10th anniversary of 'Twilight', Stephenie Meyer has reworked her famous book and swapped the genders of her leading characters. Now Bella and Edward are Beau and Edythe!
Oh, and Jacob Black is now Julie Black. In fact, there's not a single character who's not had a gender swap according to online sources.
Celebrate #Twilight10 with the anniversary edition of Twilight inc. an all new reimagining https://t.co/UM3CZEIq6X. pic.twitter.com/4r1K4zmOz1

— Waterstones (@Waterstones) October 6, 2015
'Life and Death: Twilight Reimagined' was partly inspired by fans according to Meyer, who wanted to show that Bella is not a 'damsel in distress', but a 'human in distress', so her story is can also be applied to a male character.
Meyer told 'Good Morning America': "[Bella's] been criticised for being too consumed with her love interest, as if that's somehow just a girl thing.
"But I've always maintained that it would have made no difference if the human were male and the vampire female — it's still the same story.
"Gender and species aside, 'Twilight' has always been a story about the magic and obsession and frenzy of first love… So I thought to myself, 'Well, what if I put that theory to the test?'"
However, 'Fifty Shades of Grey' fans are not happy. They've accused Stephenie of copying EL James, who recently wrote a version of her book from the perspective of Christian Grey called 'Grey'.
But 'Twilight' fans have hit back, pointing out that 'Fifty Shades of Grey' initially started life as 'Twilight' fan fiction!
Take a look at some of the conversations happening on Twitter now...
Team Fifty Shades
I'd rather read Fifty Shades again for the rest of my life before I'd read this ridiculous genderswapped Twilight. #ThereIsaidIt

— Isabella (@evendia) October 6, 2015
The Twilight fandom today: pic.twitter.com/gy44B0dde9

— PeaceStew ∞ (@artpop_stew) October 6, 2015
Okay, so these guys seem pretty exasperated by the new book, which follows three original books, four films and two other spin-offs (yes, there's loads!). But don't rule out the 'Twilight' fandom who are already guessing when EL James will copy Stephenie...
Team Twilight
Stephenie Meyer: "I'll show you how to fanfic my book, E.L. James!" #LifeandDeath #Twilight

— Hannah @IrishBOOnana (@irish_banana) October 6, 2015
Can't wait to read EL James' original and well-thought out tale of Male Ana and Female Christian's totally healthy relationship #twilight

— Naomi Clark (@naomi_jay) October 6, 2015
Will you be reading the gender swapped version of 'Twilight'?