UPDATE: Inside Brad Pitt And Angelina Jolie's Secret Wedding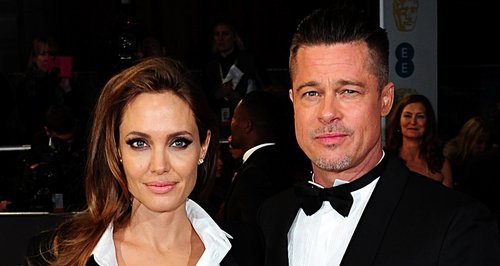 Brad Pitt "gasped" as he lifted the veil of his "stunning" bride Angelina Jolie according to reports. The couple, who met on the set of 'Mr & Mrs Smith' in 2005, finally tied the knot in a secret wedding ceremony at Château Miraval in France on Saturday August 23.
As news is confirmed that the couple married during an intimate ceremony attended by friends and family at their French estate, new details are emerging about the couple's special day including the moment Brad saw Angelina as she walked down the aisle.
It's been a long time coming for the pair who have been together for nine years, however it's thought Angelina had promised her mother - who died in 2007 - that she would wed Brad in France, whilst it's also said the happy couple wanted to commemorate the 10 year anniversary of 'Mr & Mrs Smith' the film set where they first fell in love.
According to E! news, the 'Maleficent' actress opted for a "very traditional" wedding dress which sources have described as "comfortable but plain white floor-length antique lace and silk."
It seems that Brad was a fan of the dress too, as a source revealed:"[Angelina] had a veil and Brad gasped when he lifted it because she looked so stunning."
While the designer of Angie's gown remains unknown, the website claims the actress wore items that belonged to her late mother including a small locket with a photo of her inside it.
Of course the couple's kids played a part in the ceremony with a spokesperson for the pair confirming that Jolie's eldest sons Maddox and Pax accompanied her down the aisle whilst Zahara and Vivienne threw flowers petals. They also revealed that the twins Shiloh and Knox played the role of ring bearers.
E! adds that the boys all wore cream linen suits to match their father's, while the girls each wore a different dress of their choice.
Brad and Angelina have always been intensely private and it's reported that only 22 guests were given the honour of attending, including Brad's parents, Bill and Jane Pitt, the groom's brother, Doug Pitt, sister Julie Pitt and her two children.
A notable absence from the ceremony was Angelina's father, John Voight, who confirmed to Inside Edition that he was unaware his estranged daughter had wed.
Jeweller to the stars Vashi Domingue claims that Brad, who has recently been spotted wearing his new gold ring, probably spent "$10,000" on the jewellery which he says is a "surprisingly modest" choice in comparison to other celebrities.