Brangelina File For A Divorce And The Internet Can't Cope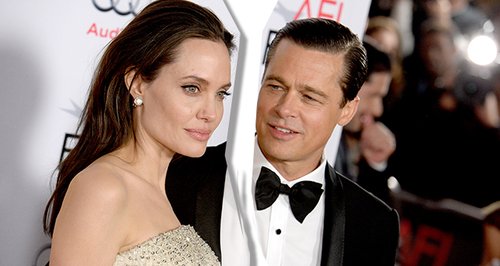 And who can blame them? No one saw this coming...
The celebrity world has been hit by a storm as the news emerges that Angelina Jolie has filed for divorce from Brad Pitt. Yep, that's right people: Brangelina is no more.
The couple, who have six children together, have decided to call it a day after two years of marriage but they have been together since 2004.
Brad, 52, famously split from his then wife Jennifer Aniston, 47, shortly after working with Angelina, 41, on the film Mrs and Mrs Smith.
Because of this, the internet has unceremoniously divided into team Jen or team Brangelina and this is the best the twittersphere has to offer...
Some were unashamedly #TeamJen:
Angelina Jolie and Brad Pitt: divorce
Jennifer Aniston: pic.twitter.com/j9unfX4ohi

— kaia (@pIaynogame) September 20, 2016
Two cheers for Karma #smug #brangelina #JenniferAniston pic.twitter.com/hxS878enCK

— Rume Ugen (@keepitfrank) September 20, 2016
Jennifer Anniston right now..... pic.twitter.com/Xa0iT1jVti

— Alice Westoby (@alicemayw_) September 20, 2016
Meanwhile, at Jennifer Aniston's house... #brangelina pic.twitter.com/c3KXdyAzuY

— boohoo.com (@boohoo) September 20, 2016
Whilst others were genuinely upset:
"Irreconcilable differences" #brangelina https://t.co/A1Gci40X8q pic.twitter.com/npQITGVoBv

— Good Housekeeping UK (@GHmagazine) September 20, 2016
If #Brangelina can't make it, who can? #loveisdead

— harambae (@feralcreature) September 20, 2016
If a couple with millions of dollars, six kids and a brand of overpriced rose wine can't make it, we should all just give up now #brangelina

— Joanna Hausmann (@Joannahausmann) September 20, 2016
#Brangelina #Divorce Sorry, what now...? pic.twitter.com/UH1SUWkp1J

— Declan Harvey (@NewsDeclan) September 20, 2016
Some people made their own speculations about why the couple are over:
I hear it's because she always wanted them to be called Angelibrad #brangelina

— David Baddiel (@Baddiel) September 20, 2016
And some just came to the internet to watch...
I just came here for the gifs... #brangelina pic.twitter.com/GsCIKn46A1

— TIM BRYAN (@Tim_Bryan3) September 20, 2016