'Bring It On': Then And Now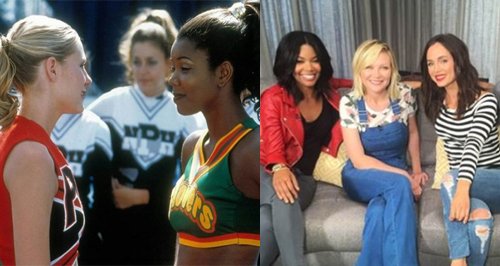 It's been 15 years since the release of one of the most iconic teen movies of the 00s… and fans of the cheerleading film will be thrilled to know the gang are back together - which is great - because there's NOTHING we love more than a reunion!
When new team captains Torrance of the Toros and Isis of the Clovers lock heads in the fight to bring their respective squads to victory, you know it's going to be a battle worth watching!
Well, 15 years on and the team are all back together for a very special reunion...
Aww… don't they all look so happy to be back together!
Obviously apart from Kristen Stewart's portrayal of the sincere Torrance Shipman and Gabrielle Union's amazingly fierce Isis, we had two other characters who we fell a littttttle bit in love with in the movie.
Cue the gorgeous Jesse Bradford playing the adorable Cliff Pantone and the fabulous Eliza Dushku playing his sister the sassy Missy Pantone:
The pair had fantastic sibling chemistry on-screen and we loved watching them bicker and argue almost as much as we loved watching the cheerleading scenes.
Check them out now...
OBVIOUSLY Torrance fell head over heels for her sassy team mate's hunky bro (we can't blame her!) and (in our humble opinion) both actors still look equally great together today. #JustSaying
D'aww! Just look how happy they are to be back together… remake anyone?