Brooklyn Beckham Has Some Father-Son Bonding Time…And We've Got The Snaps To Prove It!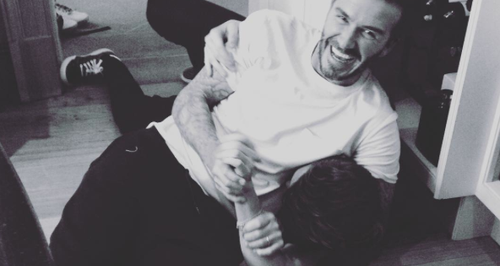 His dad may be one of the most famous men on the planet, but that doesn't mean Brooklyn Beckham can't show him who's boss every now and then! The father-and-son duo recently took to Instagram to show-off their wrestling skills, with both of them ending up in headlocks.
The joke kicked off with David, who managed to put his eldest son Brooklyn in a headlock during a weekend wrestling session.
He shared this snap on Instagram with the caption, 'Just a normal Sunday in the Beckham household.. Master Brooklyn trying to take on 40 year old dad and losing again #dontmesswithdad #nexttimeson.'
It's amazing how a black-and-white photo can even make play fighting look arty!
Of course, 16-year-old Brooklyn wasn't having any of it, and he later pinned down his dad to post this snap to his Instagram account.
He captioned it, 'In your dreams dad'.
Well, boys will be boys!