He's Mr Popular! The Ultimate Guide To Brooklyn Beckham's Famous Friends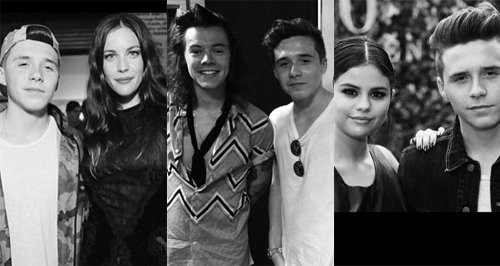 Is Brooklyn Beckham the most popular teenager on the planet? We reckon he's in the top five with his incredible line-up of famous friends; from Gordon Ramsay's children to Stephen Hawking (yes, really!). Here's our guide to Brooklyn's BFFs…
The Vamps
It's a well-known fact that Brooklyn Beckham is mates with British boy band The Vamps - he even tried his hand at acting in their 'Wake Up' music video. Brooklyn posted this snap of himself with the quartet to his Instagram account...
Jack and Tilly Ramsay
David Beckham and TV chef Gordon Ramsay are known to be the best of mates, so it's hardly surprising that their kids are friends too. Brooklyn loves hanging out with Jack (his official BFF) and Tilly Ramsay, and they take mean black-and-white Instagram snaps like this one…
Liv Tyler
She's the famous actress daughter of rocker Steven Tyler and he's the famous son of a footballer and a pop star-turned-fashion designer…they're a match made in heaven!
Selena Gomez
We know he's famous, but Brooklyn Beckham is still your typical 16-year-old lad…so no wonder he's smiling in this snap with pop starlet Selena Gomez. We bet he loved showing his mates this one!
Ralph Lauren
We're guessing it was mother Victoria who put Brooklyn in touch with American fashion legend Ralph Lauren, but still, the duo look rather stylish! We wonder if Brooklyn is plotting a career in the fashion industry?
Kevin Hart
American funny man Kevin Hart appeared in H&M clothing commercials with David Beckham, but it looks like Brooklyn made an impression too. The duo were snapped together for Brooklyn's Instagram account…
Jayden and Willow Smith
We wonder if there's a 'children of famous people' club? Well, if there is we reckon this trio are chairman, president and CEO! Brooklyn caught up with Will Smith's children at a music festival and shared this picture to make the rest of the world feel really, really old.
Harry Styles
We think teenage girls the world over would have a meltdown if they ever saw this famous duo together. We're not sure how they have managed to sail past those awkward teenage years (braces, acne, general bad taste in clothing), but it makes us think we missed a trick!
Stephen Hawking
Brooklyn can even add inspirational physicist Stephen Hawking to his list of famous friends. Perhaps Brooklyn is considering a career in the sciences? Well, who better to learn from…