Buzz Fletcher And Dad Tom Duet Together And It'll Bring A Tear To Your Eye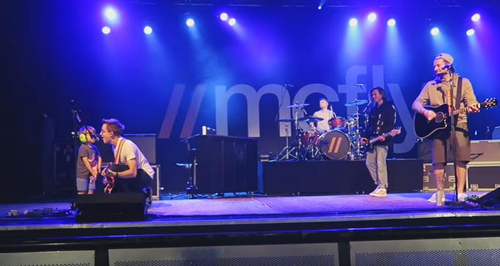 He's only two-and-a-half and he sounds way better than any of us!
When you have two parents who are musically talented what are the chances that you're going to be great at it too?
At just two-and-a-half years old, Buzz Fletcher is showing a promising start as he performs a rendition of McFly's Room on the 3rd Floor, Buzz on drums with his dad Tom on guitar and vocals.
Boy has that kid got talent!
Proud dad, McFly guitarist Tom, 31, posted the video to Facebook captioning it: "We never have to postpone a tour due to @juddmcfly being injured ever again!"
Back in March this year, the boys were forced to postpone their 2016 Anthology Tour by a month as drummer Harry Judd, 30, suffered from an 'acute disc herniation'.
In a statement he said he was "absolutely gutted" he couldn't kick off the tour when planned.
Skip to 9 minutes to see Buzz on stage with McFly!
He said: "I'm absolutely gutted to say that we've had to postpone the tour as I've herniated a disc in my neck. I've honestly tried everything to make it work but I'd never want to do a tour where I wouldn't be able to give you guys the 110% performance you deserve every night.
"I'm gunna do all the rehab possible to get myself ready to do the most epic shows we've ever put on! Love Harry, Barry, The Triple D, The not quite as good half of Pudd or whatever it is you wanna call me x #mcfly #itsnotalwayseasy."
Now back on the mend, Harry joins Tom, along with band members Dougie Poynter, 28, and Danny Jones, 30, have resumed their tour of the UK.
However, it now looks like Buzz Fletcher just might be about to join the lads on tour! If only we were this talented...
Not sure how the original song goes? Listen to it here!