Care home has been painted like a 1940's street to help dementia patients recover lost memories
19 September 2018, 13:16 | Updated: 19 September 2018, 15:12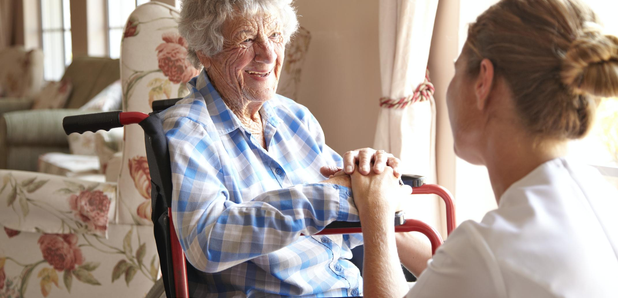 A care home in Northumberland has a unique and creative way of helping it's patients recall memories.
A creative care home based in Newbiggin-by-the-Sea, Northumberland, has used it's decorating skills to help aid its residents recover memories.
Many of the residents of De Baliol Care Home in the town suffer from dementia, a disease that effects memory in the elderly, and the staff came up with a fantastic way to help them recover some old memories.
The walls of the care home have been painted to look like a 1940s version of the local high street, a place many of the residents spent a lot of time visiting in their younger years.
Staff at the care home hope that the recognisable landmarks depicted in the murals such as the shops and sea front will trigger memories.
Administrator for De Baliol Care Home Sylvia Richardson said: "We wanted to create and atmosphere that would stimulate memories of the local area of yesterday and today.
"We involved all the residents and the staff – but almost all the work has been done by Chris Brosnan, our maintenance man, with the murals for doors and walls done by Premier Graphics, from Blyth.
"The fantastic photos were taken by Robert Miller, from Stakeford, and enlarged to create a local scene."
Their handyman Chris was more than pleased to be 'let loose' on the walls of the home and create something truly special for its residents.
He said: "The idea, for people with dementia, is to bring memories back, to create a street which looks the way things did when they were younger."
This isn't the first NHS care home to try out the initiative and it has been successful in a few other locations across the country.