Caroline Aherne's Very Best Television Bits
Debbie McGee on Mrs Merton
01:12
As Caroline Aherne sadly passes, we will remember her for the witty one liners which brought a tear, especially when Mrs Merton asks Debbie McGee: "What first, Debbie, attracted you to the millionaire Paul Daniels?"
As a Bafta-winning writer and performer, her comedic genius and acerbic wit led her to create some of the most relatable and endearing characters in British comedy. From the slovenly Denise Royal, wife of on-screen husband "Dave" (co writer - Craig Cash) in The Royle Family in the 1990s, to Mrs Merton, the disarming agony aunt with a seemingly naive interviewing style that meant she got away with murder!
Read more: Watch the Ab Fab trailer dahling, oh go on sweetie!
This sketch from the show she co created, The Royal Family, perfectly depicts the hilariously lazy Denise Royale being asked about baby David.
She's been credited with redesigning the sitcom as The Royal Family fast became a national family favourite with its catch phrase, "my arse", and she later went on to narrate Gogglebox.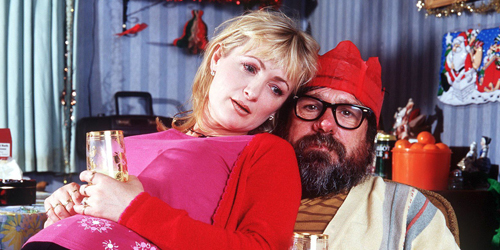 She wrote some of the most memorable characters in UK comedy and shot the fame with a series of roles on the BBC sketch programme The Fast Show. Her most alluring character was Poula Fisch, the weather presenter whose temperatures was always "scorchio!"
On the Mrs Merton show, incredibly, none of the audience questions were scripted and thinking on her feet was one of the things she did best which brought hysteria on many occasions.
Read more: Who's the daddy? Bridget Jones' rip roaring new trailer.
When she interviewed the young Ant & Dec,then known as PJ and Duncan from Byker Grove, on The Mrs Merton Show, there were laughs galore when she sat them next to Germaine Greer and then asked her: "Do you like young boys Germaine".
Please feel free to leave your own tributes to the much loved Caroline Aherne and let us know just why you loved her.