Celebrities Wave Goodbye To Their Kids On The First Day Back To School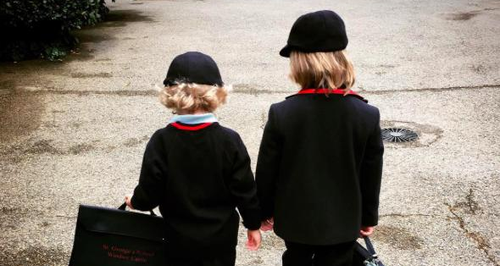 It doesn't matter if you're a celebrity or not, school finds us all!
It might be back to school for the ordinary children but just because mum or dad are famous doesn't mean that celebrity offspring get away with it!
Sir Elton John, Wayne Rooney and Madonna are amongst the parents who are waving goodbye to their children this week as they kick off the summer term at school.
Manchester United captain Wayne Rooney, 30, posted an adorable snap of his two of his sons, Kai, six, and Klay, three, before heading out on the school run.
His wife Coleen, also celebrated the momentous occasion with her own Instagram followers. The couple's third son, Kit, isn't old enough to be heading off to school with his brothers yet. In fact, at six months old he's not even out of nappies yet!
Proud mum Madonna posted a photo of her adopted children David and Mercy as they got ready for their first day back to school after the summer holidays.
She captioned it: "First Day of School!! I'm Good with 4 hours of sleep I swear!"
Actress Jessica Alba's husband Cash Warren got a bit emotional when he posted a photo of their children Honor and Haven as they packed up their lunch boxes and sent them off to school.
Sir Elton John shared a beautiful photograph of his children with husband David Furnish, Zachary, five and Elijah, three. He used #ShareTheLove to show his pride.
Presenter and mum of two Amanda Holden posted an emotional message to her youngest daughter Hollie who started school for the first time this week. Hollie's older sister Alexa, 10, was sure to show her the ropes!
Although these parents are a tad emotional to send their children back off to school, we bet secretly they're a little pleased about getting some peace and quiet after the jam packed summer holidays!