9 Times Celebrities Helped Fans Propose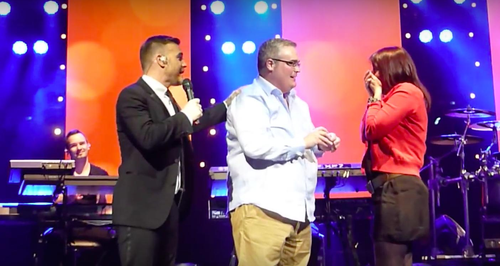 From Beyoncé to Zach Braff, celebrities just haven't been able to resist a chance to help fans pop the most romantic question of all time!
When it comes to popping THE question, you want it to be something you'll both remember.
From Beyonce to Ed Sheeran, we remember the times celebrities helped fans with their engagement. Who could possible say no to that?
1. If you like it then you should've put a ring on it right? Well Queen B helped one fan do just that.
2. Senorita, he feels for you! We just swoon at the thought of Justin Timberlake helping out with our proposal.
3. "And I was like, why you so obsessed with me?" Mariah Carey helps these two love-birds get engaged during her show.
4. "A million love songs later!" Here's heartthrob Gary Barlow bringing a member of the audience on stage so he can propose to his girlfriend.
5. "I think I wanna marry you!" Of course the man behind this song has offered his helping hand to a couple of lovebirds.
6. Ed Sheeran is a serial 'proposal aid'. There was the time he stopped his show for a fan to propose (and nearly cried)...
7. And then the time he helped out Kodaline's Jay Boland with his proposal to his long term girlfriend...
8. And when Paloma Faith helped one man propose to his boyfriend of 13 years...
Congratulations to all the winners of my 'Beauty Remains' Valentine's Day competition, all your messages are up on my Twitter @PalomaFaith. But...here's a VERY special final one to Chris from James!! Xx

Posted by Paloma Faith on Saturday, 14 February 2015
We live in hope...