Alex Jones experienced 'maternity leave paranoia' after giving birth to son
15 June 2018, 08:28 | Updated: 15 June 2018, 08:41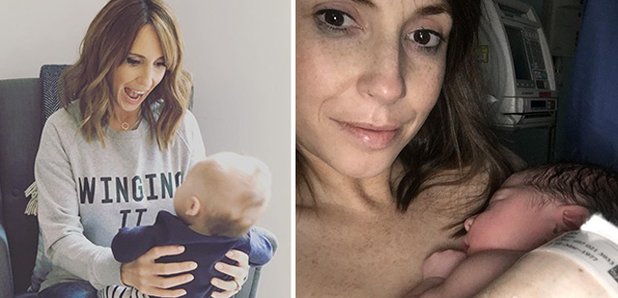 The presenter admits she felt worried that she would not have a job to return to at the end of her maternity leave.
Presenter Alex Jones reveals that she felt 'maternity leave paranoia' after giving birth to baby Teddy in January last year.
The new mum, 41, appeared on Loose Women and admitted that she was swamped with 'personal fears' about not being offered her job back once her maternity leave was through.
Alex, who co-hosts The One Show, explained that she was lucky that bosses were understanding.
She told the Loose Women panel: "They said 'Alex take your time', they were really good. Just come back when you're ready don't rush. It was all coming from me.
"If you like your job and if you respect your job you'll always have that fear. If you're ill or off on holiday you still feel a little bit insecure. It's a difficult thing as of course you want a family as well.
"And yes we do want everything, but why should we have a career and a family? It's a balancing act.
"And now, I look back and think I could have taken a few more months - it wouldn't have made a difference. But of course, you don't know before you get into it."
Alex, who came a respectable fifth place in the 2011 series of Strictly Come Dancing, also falls under the NHS category of a 'geriatric mother' after becoming pregnant with Teddy at the age of 38.
But the Welsh presenter slams this term, believing that attitudes to 'older' mums need to change.
"It's always nice isn't it, always nice to be called a geriatric" she joked.
"These days I feel things have moved on quite a lot. I certainly don't feel old now and didn't at 38 when I fell pregnant.
"I think we need to rethink the language a bit. People aren't meeting people early these days, it takes a bit of time. Things are naturally progressing a bit later. I didn't find my husband until I was 34, so without him there'd be no baby!"
Alex took over from Christine Bleakley on The One Show in 2010, and in 2015 announced during the broadcast that she was engaged to New Zealand insurance broker, Charlie Thomson.
The pair married at Cardiff Castle on 31st December 2015 and have recently celebrated their son Teddy's first birthday.