Who is Declan Donnelly's pregnant wife Ali Astall? When did she meet Dec and when is their baby due?
24 May 2018, 16:52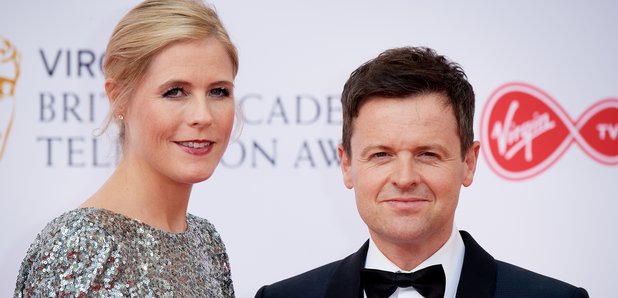 Ali Astall and husband Declan Donnelly announced that they were to become parents for the first time earlier this year.
Ali Astall, 40, has been catapulted into the spotlight after living a fairly low-key existence as a talent manager, whilst husband Dec Donnelly, 42, fronts out the crowds.
The couple announced that they were expecting their first tot earlier this year, and here's what we know about their unborn so far...
How did Ali Astall announce she was pregnant?
Ali's husband Declan Donnelly announced the news on his and Ant's official social media channels, after the papers found out earlier than the couple anticipated.
Dec posted a black and white image of he and Ali from their wedding day, with the caption: "Just wanted to say thank you for all the lovely messages. The news has sneaked out a little earlier than we had hoped but Ali and I are delighted to be expecting our first child. Thanks for all the love, we really appreciate it D x".
Ali, who doesn't have public social media channels, has only spoken about her pregnancy in interviews.
What has Ali Astall said about being pregnant?
Speaking on the red carpet at the BAFTA awards, an excited Ali explained: "I just wish it would come out now, that we could fast-forward to having the baby. We want to get on with it – we can't wait."
Dec, who has always wanted children, added it was "very exciting" for the pair.
Has Ali Astall been trying for a baby for a while?
The couple have kept most of their relationship incredibly private, but Dec spoke in 2015 about wanting a baby in the near future. He told the Irish Examiner: "I guess that's just the next stage of that dynamic changing and the next stage of our lives. I'm really looking forward to that."
Even before he had met Ali, Dec has previously expressed his desire to have children. In a 2011 interview, he revealed that he'd bought a house big enough to home a future family, and said: "Two would be good. That's still my intention, but who knows when it'll be.'"

Credit: Getty
When is Dec's wife Ali Astall's due date?
Speaking on the red carpet at the BAFTA's, Ali and Dec announced that they would be welcoming their baby in September. Due to the impending arrival of their tot, it is unclear as to whether the 2018 series of I'm A Celebrity will go ahead, which normally begins in November.
The show would mean that Dec would have to up sticks and relocate to Australia for many weeks whilst the show is in full swing.
Coupled with Ant McPartlin's recent withdrawal from the spotlight following a drink-drive charge, fans will have to wait a little longer to find out about the show's future.
Does Ali Astall or Dec have any other kids?
Neither Ali or Dec have children, although they are both over the moon that it's finally happening!
What is the sex of the baby?
Neither Ali nor Dec have confirmed the gender of their unborn baby, but this is not usually revealed until the 20 week mark, so the couple may have to wait a bit longer to find out.

Credit: PA Images
How did Ali met Dec?
Ali used to work as Dec's talent manager for 10 years, before the two began a romantic relationship in 2013. Ali still talent manages, but with James Grant Management.
Over the years, whenever she and Dec were single, the pair used to "hang out" on Valentine's Day, before discovering that they actually had feelings for each other.
Dec previously explained: "When she was single and I was single we'd go out for dinner on Valentine's Day together,' he said. 'Last year we went out as a couple. It was a little strange because we've had a working relationship for so long."
When did Ali Astall marry Dec?
The couple tied the knot in an intimate ceremony on August 1st 2015, as St Michael's Roman Catholic Church, Elswick, Tyne and Wear. Ant McPartlin was Dec's best man for the occasion.
WATCH! Ant and Dec's changing faces over the years: