Freeze! Celebrities Take On The News Internet Craze: The Mannequin Challenge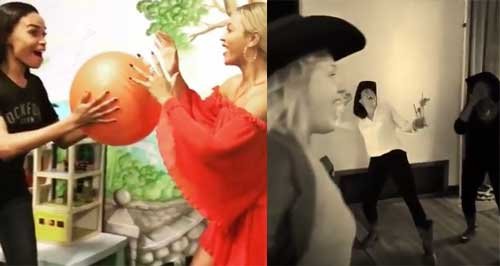 It's the bizarre new fever taking hold of the world wide web... and even showbiz's biggest faces are getting involved!
So what on earth IS the Mannequin Challenge?!
The new fad sees participants adopting a whole variety of 'action' poses, and then standing completely still while someone with a camera walks around filming the scene before them.
So it's kind of like a giant game of grown-up musical statues!
It hasn't taken long for pop stars such as Adele and the members of Destinies Child to take on the challenge, as well as the American chat show host Ellen DeGeneres and her online team.
Adele:
The 28-year-old singer has outdone everyone in classic Adele fashion, by creating a fantastical mid-Western scene and dressing as a cowgirl.
Beyoncé and her fellow Destinies Child band mates, Michelle Williams and Kelly Rowland:
Queen Bey is frozen in time with her fellow musicians as they mess around with a big red ball in a play room.
Fans suspect that the location is Kelly's son Titan's nursery that the friends are playing in and the Instagram video has sparked excitement that the trio might be reuniting for new music soon. Watch this space!
Ellen Degeneres and her digital team show us what a typical morning at the office looks like:
The TV show host gives us a glimpse into her hectic schedule with her brilliant version of the mannequin challenge.
We're sure more celebs will be copying the craze soon enough... will this turn into the next ALS Ice Bucket Challenge?!