Chrissy Teigen gets a shock after asking daughter Luna what she did at school
23 August 2018, 07:45 | Updated: 19 December 2018, 12:20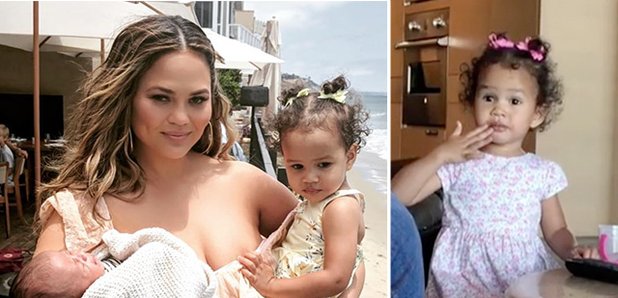 The mum-of-two probably wasn't expecting her toddler to admit to that!
Chrissy Teigen shared an adorable video of Luna, 2, after she had returned from her first day of school.
The model, who is married to singer John Legend, asked their eldest child what she had done during her day.
Clothed in an adorable pink printed dress with her hair in cute bunches, Luna's first answer was "I fell down on my forehead", to which Chrissy replied: "No, that was in Bali, what did you do today?"
After some deliberation, the tot replied: "I pushed."
Chrissy asked: "Who did you push?"
Luna responded: "I pushed a boy."
Fans of Chrissy's were quick to react to the unexpected anecdote, with one writing: "Omg! She is just the cutest!!", whilst another added: "Thats right Luna, push those silly boys down!"
Another posted: "She's my daughters soulmate!"
Chrissy Teigen and John Legend have been together for eleven years, and tied the knot in 2013. Together they share two children - Luna, 2, and Miles, 3 months.
The model recently admitted that her childhood crush on fictional cartoon character Arthur led her to falling in love with her man, due to their uncanny resemblance.