Chrissy Teigen slams trolls who shamed her breastfeeding pics
9 July 2018, 12:06 | Updated: 19 December 2018, 12:20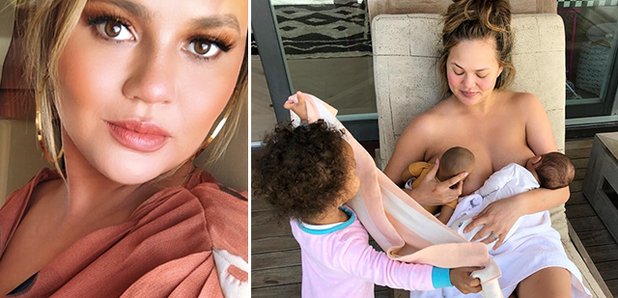 The model confronted a troll who commented on a recent social media post of her breastfeeding son Miles.
Chrissy Teigen had the ultimate comeback to a cruel troll who told her to stop posting breastfeeding selfies.
The model, 32, who is married to singer John Legend, 39, uploaded a picture of her double-breastfeeding newborn son Miles and a doll that her two-year-old daughter Luna had handed her.
Captioning the image: "Luna making me feed her babydoll so I guess I have twins now", most of her followers responded positively to the snap.
However, the star was also met with a few comments from trolls, with one writing: "Christ in a hand basket. Menstruating, childbirth and sex are natural, too, but that doesn't mean I want to see pics of it and/or celebrities like @chrissyteigen taking a bath or nursing. We get it."
I don't care to see grainy fireworks, coachella selfies or infinity pool pics but i let people live. calm your tits and scroll on by. https://t.co/k604IcF55a

— christine teigen (@chrissyteigen) July 7, 2018
But rather than let the trolls win, Chrissy upped her sass levels and hit back with the ultimate response: "I don't care to see grainy fireworks, Coachella selfies or infinity pool pics but I let people live. Calm your t*ts and scroll on by." .
Her genius comeback was met with a whole heap of love from fans:
"calm your tits and scroll on by" - i want this emblazoned on my tombstone

— Jay K. Cagatay (@jayktweets) July 7, 2018
My girl Chrissy out here taking no prisoners

— Gilberto Galvan (@GivaGlvn) July 8, 2018
@chrissyteigen continues being my hero. Go back to your bridge, trolls.

— Linsey Godfrey (@linseygodfrey) July 7, 2018
Chrissy, who is known for her quick-wit and banter, has been praised in the past for her open and honest approach to dealing with motherhood and all that it throws her way.
The model recently admitted that she used to have a crush on cartoon character 'Arthur' from the kids series of the same name, and that it led to her falling for her husband John Legend - who admittedly does bear a resemblance.
John Legend, who is equally aboard the banter-bus, then promptly changed his twitter bio to read: "Chrissy's husband. Father of Luna & Miles. No relation to Arthur".
Ultimate couple goals!
WATCH! Chrissy Teigen shows her insecurities: