Christine Lampard is expecting first baby with husband Frank
17 May 2018, 14:03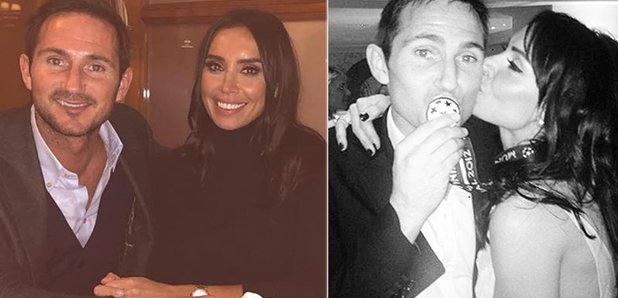 The presenter later revealed she took EIGHT pregnancy tests before believing she was becoming a mum for the first time.
Christine Lampard (formerly Bleakley) took "at least about seven or eight" pregnancy tests before believing she was pregnant.
Speaking on Thursday's Loose Women, the 39-year-old beamed as she shared her happy news with the ITV presenter panel.
She said: "It was one of those things, I'll have a go and then it happened.
"I didn't want to tell [Frank] because he was working, I didn't want him to have all that craziness in his head – I wanted to see him, I wanted to have him back home.
"So that was it and on it goes. Gosh, it's just incredible, it takes over your whole brain.
"It's all I've been thinking about."
She added that she is about four months gone, and had made the decision to stay quiet until she and Frank were confident that the baby was healthy.
Christine explained: "I found out quite a while ago, I'm actually 21 weeks... that classic kind of anxious kind of nervous superstitious way, it was like let's get the big scan done and then you can open up and start to tell people.
"I've just been really nervous because you're always thinking the worst."
Christine and Frank announced their happy news on Instagram yesterday, but they hadn't been actively trying for a baby.
"I think sometimes that can consume you too much," said Christine. "It was very much a case of let's see what happens. I'm clearly not 18 any more so we weren't sure it was going to happen.
"We've just had the loveliest time between the two of us, going oh my gosh I think it's going to happen, it's happening!"
Baby Lampard will have two older sisters from 39-year-old Frank's first marriage who can't wait to meet him or her.
Christine grinned as she recalled sharing the news that they would soon have a baby brother or sister.
She said: "Oh my gosh they were just... excited doesn't do it justice at all.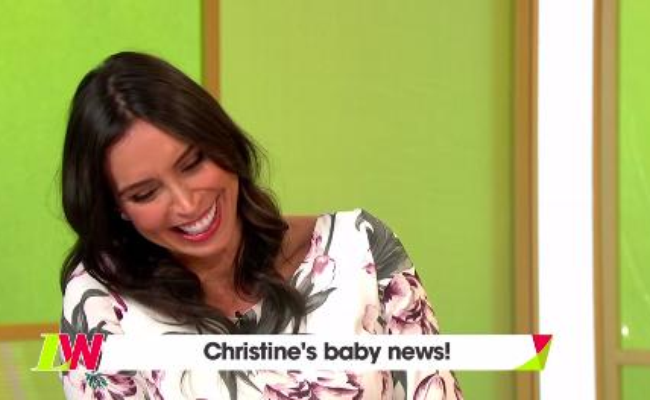 Christine was delighted to share her happy baby new with the ITV panelists
"I happened to say to them that apparently at this stage the baby can hear voices so of course straight away they're like, 'I'm your favourite sister'. They're chatting to my belly the whole time.
"They phoned straight away – they're just so excited. They want a girl, that's their only stipulation."
Frank uploaded a cute family photo with the caption: "We have some exciting news we wanted to share with you. The Lampard family is growing! My gorgeous wife @christinelampard is pregnant and we all couldn't be happier!!!"
And straight after, Christine re-posted it with an additional message: "The Lampard family are expanding!! I feel SO excited, nervous and grateful! The list of emotions is endless."
Frank already has two girls from a previous marriage, but this will be the first tot that he and Christine will share together.
According to The Sun, a source revealed that Frank's daughters - Luna and Isla - were delighted with the news and are already trying to take charge of naming the unborn.
The source announced: "The family are very excited about this news. Frank told the girls on Monday and although they don't know the sex of the baby the girls are working on names."
Only in February this year, Christine had expressed the desire to have children of her own, stating: "If it happens, of course it will be wonderful. If not we have the two girls – and one is about to embark on her teenage years, so that is a whole other chapter about to happen."
"That is honestly where our heads are at, and we just enjoy life as best we can in between."
Christine first found fame hosting The One Show before moving onto Daybreak alongside Adrian Chiles. The star also took part in 2008's Strictly Come Dancing, managing a respectable 5th place.
She and Frank - who spent most of his footballing career playing for Chelsea FC and England - tied the knot in 2015 after meeting at an awards ceremony in 2009, where Christine announced they "instantly clicked".
Congratulations all round!
WATCH! Kate Wright reveals Rio's kids are 'begging' them to marry: