Christine McGuinness 'blames herself' for her twins' autism
9 April 2018, 12:00 | Updated: 19 October 2018, 17:33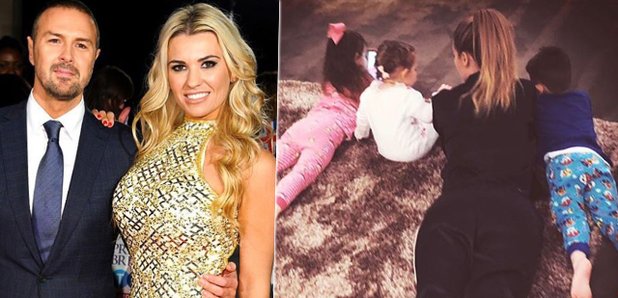 The model and wife of Paddy McGuinness has opened up about blaming herself for her children's autism.
The couple are parents to four year old twins Leo and Penelope and one year old Felicity. After the twins' diagnosis last year, Christine revealed that she thought it must be her fault.
Speaking to OK!, the model explained: "I blamed myself. I thought it must be my fault because they've only ever been with me; I didn't even let my husband look after them."
Christine also explained she is facing new concerns that their youngest, Felicity, may too be showing signs of autism. Christine explained: "Felicity can't be diagnosed until she's three and she could be copying the twins' mannerisms, but even at six months old she was tensing her body when she was excited. She walks on tiptoes and she does a flapping arm movement when she's happy or excited. These are common signs of autism."
Christine also went onto reveal that she has been through "the toughest year" after the children's diagnosis and the rumours circling husband Paddy and pop star Nicole Appleton.
She added: "As a family we've had an awful lot to deal with, but you can only do your best in a relationship and like anything else it takes working at and we're working things through. We've always been extremely private; we've been together 11 years and there have been ups and downs. I was 19 when we met. These headlines were easy for me to go: "It's not even worth focusing on!" We've been through a lot as a couple in private, but I still love Paddy."
After enjoying their first family holiday together, the showbiz couple have inspired other parents of autistic children that going away can be possible. TV host Paddy revealed the challenges he and his wife face, explaining: "Being parents with autistic children, for us, family holidays have been a pipe dream until now!"
The twins are afraid of flying, so the family opted for two days away in Preston, where they had their own space in a small chalet to enjoy some quality time together. Paddy continued: "We had our own little bungalow/chalet which was great. If you're a parent dealing with autism on a daily basis please don't give up hope on things like holidays."
WATCH! Heart's celebrity confessions of a school run with Anton DuBeke: