Every Time David Beckham Embarrassed Son Brooklyn In Public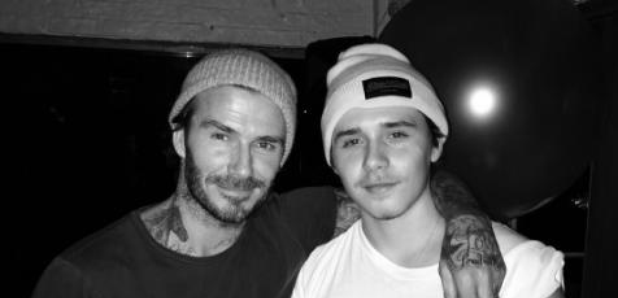 According to reports, aspiring snapper Brooklyn Beckham will head to university this September to study photography. Let's hope dad David doesn't embarrass the 18-year-old (AGAIN) in front of his new classmates.
It's sort of a parent's job to embarrass their children. But few take the task as seriously as David Beckham, who seems to take great pleasure in leaving son Brooklyn red-faced in public. As it's reported that grown-up, 18-year-old arty son Brooklyn will soon attend university to study photography (where did all the time go!?), we look at every time David embarrassed his super-cool son.
When he outed Brooklyn for wearing his clothes
Young Brooklyn was broadcasting his trendy clothes to his fans via a live Instagram video, and fawning comments came flooding in. David saw his chance to butt in, commenting "That's my shirt" and "U should be at school". Daaaaad!
When he posted a snap of Brooklyn befriending an elf
Everyone love Christmas, but the last thing a teenager wants to see on the internet is a picture of them cosying up to a cute elf. When it's your dad that's posted the snap, it's even worse. Poor old Brooklyn.
When he shouted "I love you" outside the school gates
Appearing on Good Morning Britain, David explained that Brooklyn hated being driven to school, and asked his dad to drop him off around the corner. "He's at the age now where he does not want me to drop him off outside school," David admitted. "He does not want too much affection but, yes, I still kiss him. He said, 'Can you drop me around the corner?' As he was walking in to school, I wound down the window and shouted, 'I love you!' to him. He was not happy – but it made him smile a few days later." Cute!
When he chaperoned Brooklyn on a date
This might be the most cringe of all. Speaking to host James Corden on The Late Late Show, David recalled the time he accompanied Brooklyn on the then-fourteen-and-a-half-year-old's first ever date. "It was Valentine's Day," David explained, "so he said, 'I'd love to take this girl to dinner'. "[Victoria] said, 'OK, make sure you take him, and you sit in the restaurant'. We took him to a small sushi restaurant and he sat at the sushi bar and I sat about five tables back." What could be more awkward than your dad watching your every move on a first date!?
When he trolled his own son over Instagram (again)
Not content with poking fun at Brooklyn's clothes, David pointed out that he has more followers than his son on the app. Brooklyn boasted that he had hit one million, which prompted David to comment: "I've got 52." Daaaaad!
Don't take it too hard Brooklyn, were still think you're cool.