Watch David Beckham Do 22 Press Ups In JUST His Pants!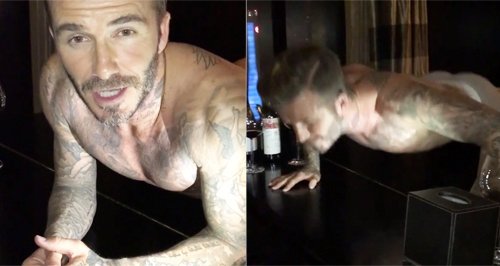 The hunky former-footballer took no time in whipping off his shirt (and trousers) for a good cause!
After Guy Ritchie nominated the 41-year-old to o the '22-psuh-up-challenge', the father-of-four has been flexing his muscles for charity.
The challenge, which has being doing the rounds on social media recently to raise awareness for the 22 men who take their lives from PTSD everyday.
The task involves doing 22 push-ups for 22 consecutive days and nominating others to do the same.
On day two, Becks took the challenge 79 floors up in a hotel, whilst lying on a piano... check it out!
This second video comes straight after DB took the challenge on a private jet!
Speaking about the challenge, the charitable ambassador wrote on his Instagram: "22 service men kill themselves post conflict. 22 a day, basically 1 an hour. So I am doing what Guy R, Jason S and Charlie H are doing and supporting, respecting and appreciating all the service men and women and their sacrifice... we shine a light to support and help save lives ... @guyritchie @justintheroux @brooklynbeckham"
Watch Day 3's attempt here: