David and Victoria Beckham 'buy Harper a £7,000 pony for her 7th birthday'
1 July 2018, 11:07 | Updated: 1 July 2018, 11:44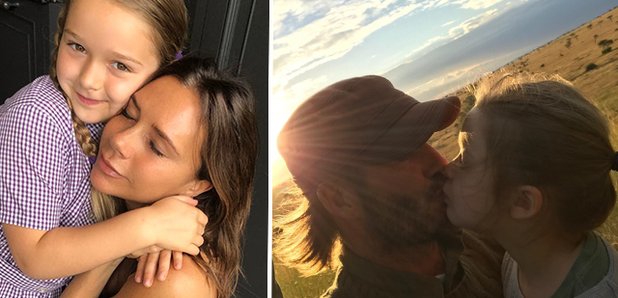 David and Victoria Beckham have reportedly splashed a whopping £7,000 on a pony for daughter Harper.
Harper, who turns seven on July 10th, was last year treated to a princess-themed tea party at actual Buckingham Palace, which saw real-life Princess Eugenie attend.
And in a grand attempt to top her extravagant celebrations last year, it is reported that Posh, 44, and Becks, 43, have invested in a £7,000 pedigree pony for her this year.
The youngest of Brand Beckham has also been gifted some 'top-of-the-range' riding equipment from Colne Saddlery in Cheltenham.
According to sources, Harper, who is younger sister to Brooklyn, 19, Romeo, 15, and Cruz, 13, is pony-mad, but has been told by her showbiz parents to make sure she looks after her new gift.
The source revealed: "A few months ago, David and Victoria bought Harper some riding lessons and she fell in love with the sport.
"She's horse-mad and has spent the past few weeks badgering her parents for a pony of her own.
"Obviously, a horse is a massive commitment, and David and Victoria have impressed upon her how important it is that she cares for it herself and gets stuck into the mucking out. They then visited a saddlery last month and got her all the accessories.
"The pony is an extravagant gift but Harper is aware of just how lucky she is."
It is reported that the Beckhams have recently invested in a new property in the Cotswolds - complete with stables - which will allow Harper to "dote on her pony every day".
And it seems that Posh is keen to give her only daughter as much opportunity to exercise her passions and interests as possible, as she recently revealed that she's encouraging Harper to follow her dream to become an inventor.
She explained: "Every day when Harper goes to school, she walks up the school stairs and I give her a kiss. I say, "Harper, you're a girl, you can achieve anything. You can do anything that you want to do."
"That's my message to her constantly. She knows she can do everything and probably more than her brothers can. We talk about it a lot. 'She wants to be an inventor and she's very proud of that. She's a strong smart woman — little woman."
WATCH! Harper Beckham shows off her football skills: