Demi Lovato thanks fans for their support after drug overdose
6 August 2018, 11:08 | Updated: 6 August 2018, 11:43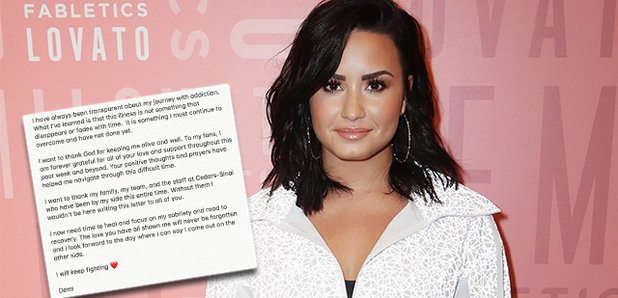 The former Disney star was rushed to hospital last month after a suspected drug overdose.
Demi Lovato has thanked fans for their support after suffering a relapse.
The 25-year-old was rushed to hospital after a suspected heroin overdose at her home on July 24.
At the time it was reported that friends had called an ambulance after a "long night of partying", and that naloxone, an opioid-overdose antidote, had been administered at the scene. >
While more details of what happened that night, or what drug(s) Demi was using have not been confirmed, today she broke her silence to reassure fans that she was tackling her issues head on.
The singer posted a statement to her Instagram account thanking her fans for their continued support and promised to "keep fighting".

Credit: Instagram - @ddlovato
Demi wrote: "I have always been transparent about my journey with addiction. What I've learned is that this illness is not something that disappears or fades with time. It is something I must continue to overcome and have not done yet.
"I want to thank God for keeping me alive and well. To my fans, I am forever grateful for all your love and support throughout this past week and beyond. Your positive thoughts and prayers have helped me navigate through this difficult time.
"I want to thank my family, my team, and the staff at Cedars-Sinai who have been by my side this enteritis time. Without them I wouldn't be here writing this letter to all of you.
"I now need time to heal and focus on my sobriety and road to recovery. The love you have all shown me will never be forgotten and I look forward to the day where I can say I came out on the other side.
"I will keep fighting. Demi."

Credit: Getty
The star's post was inundated with love and support from well-wishers, with one fan writing: "You're a warrior. Stay strong Demi, love you."
Another put: "Keep Fighting. Keep being strong" with a third adding: "You'll always have my love and support boo boo. I'm with you forever. Love you lots."
Demi first entered the spotlight as an actress on popular children's TV show Barney & Friends in 2002, before appearing on Disney Chanel movie Camp Rock in 2008, alongside the Jonas Brothers.
She then turned to music and released her first album, Don't Forget, also in 2008.
Demi has previously admitted to struggling with a drug addiction since the age of 17, when she first began dabbling with substances.
WATCH! Demi Lovato talks candidly about her addiction struggles: