Forget Clooney! Steve Carell Has Gone Grey And He's One Sexy Silver Fox
29 June 2017, 12:28 | Updated: 29 June 2017, 12:50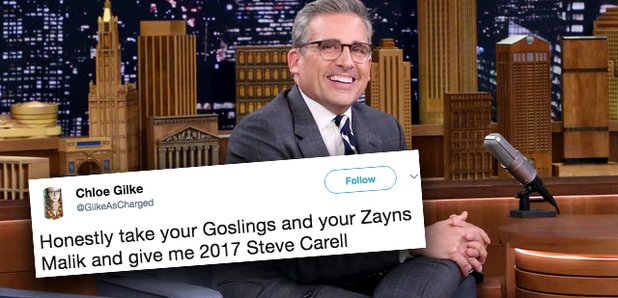 The Despicable Me actor who plays Gru and twin brother Dru has embraced the grey and we can't get enough.
We'll be the first to admit that the Evan Almighty comedian Steve Carell isn't on the top of our list of celebrity crushes, but now the 54-year-old actor has ditched the dark locks and embraced the grey and we can't get enough.
The 54-year-old actor sported noticeably silver hair on the red carpet at the recent premiere of Despicable Me 3 and quickly hit the headlines as people praised his new look.
Honestly take your Goslings and your Zayns Malik and give me 2017 Steve Carell pic.twitter.com/lUWWF2A8Ue

— Chloe Gilke (@GilkeAsCharged) June 21, 2017
During his appearance on The Tonight Show with Jimmy Fallon, the host shared some of the headlines that had appeared on the internet.
And responding to his new "silver fox" status, he quipped: "My wife finally said she's in love with me. It's exciting."
Jimmy also questioned Steve on if he had been invited to any "silver fox meetings" with other celebrities with a similar hair colour and he quipped back: "There's a bracelet you get, and mine says Steve and on the other side of the bracelet it says 'hunk of man meat.'"
Meanwhile, Steve previously admitted he was "bursting with pride" at his new found status.
He said: "I am so sick of people just looking at me for my physical attributes. It's just genetic. There's nothing I can do," before adding: "I'm bursting with pride. That's very nice."
Meanwhile, Steve previously opened up about his family life, revealing his parents have always been incredibly proud of his career and even give out pictures of him to people they meet - whether they want them or not.
He said: "My family can't believe what I do for a living and they enjoy it. I think they're astounded. My parents called me the other day from Florida, where they live for half the year, and they said, 'Could you send us some more headshots?'
"I think they give a signed headshot of me to anyone who asks ... or anyone who doesn't ask. They go to a doctor and they'll say: 'Would you like a picture of my son?' They're so proud and they're really sweet and my brothers are too."