Gary Barlow shrieks in pain as he freezes himself in bizarre health regime
17 April 2018, 08:45 | Updated: 17 April 2018, 08:48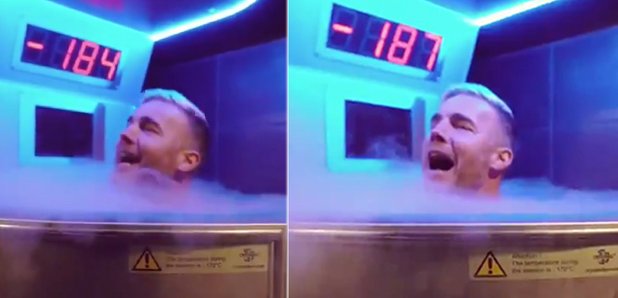 Gary is exposed to temperatures of -200 degrees!
Pop star Gary Barlow is determined to be in the best health for his solo tour.
The Take That star, 47, decided to take a dip in cryotherapy chamber, which sees him exposed to temperatures of -200 degrees.
Posting to his Twitter page, the hitmaker can be seen shrieking and writhing around as the temperatures get colder and colder.
However, there is a method to his madness; with this treatment being favoured by the likes of professional footballers and other sports stars, it is designed to help the regeneration of muscles and boost the immune system.
He explained to The Daily Mirror: "Someone said to me, it was probably my son, that Ronaldo never goes on the pitch unless he's had cryo. The problem is I am so gullible, I believe all this!"
The "Never Forget" singer has recently shared his support for troubled TV Presenter Ant McPartlin, who yesterday pleaded guilty to a drink-driving offence that has forced him to cancel all upcoming work, including the new series of Britain's Got Talent - which will see Dec take the reins alone.
Gary Barlow kicked off his solo tour in Edinburgh last night and is currently touring the UK, with upcoming shows in Brighton, Southend and Bournemouth.