Giovanna Fletcher urges women to embrace their body with inspirational post
16 April 2018, 11:26 | Updated: 19 October 2018, 20:17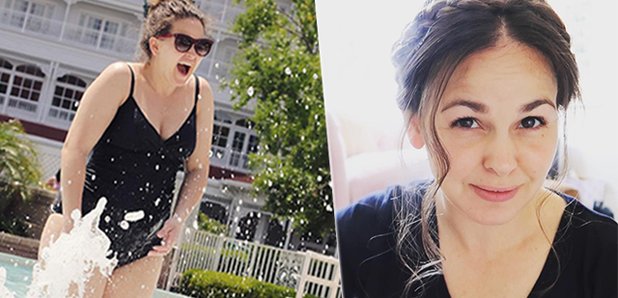 The pregnant mum of two believes that all bodies should be seen as "wonderfully unique".
Giovanna Fletcher, 33, has urged all women to embrace their "real" bodies for what they are.
The wife of author and singer/songwriter Tom Fletcher, 32, has posted an image of her enjoying a family holiday in Florida and has written an inspiring message alongside it.
Giovanna, who is pregnant with the couple's third child, posted the caption: "...we're all 'real' no matter our sizes, if we have flawless skin or cellulite and stretch marks, or if we're an apple, pear, oval, diamond or hourglass. Our bodies should be seen as wonderfully unique, not something to be ashamed of - or something people might judge us over. Question actions and words, but not a body's inability to ever achieve a thigh gap, someone's muscular abs, slender frame or a wobbly bingo wing."
Giovanna unveils some of her own body insecurities in her post, revealing: "I still have moments where I doubt myself, where I think before stripping down to my swimwear, but then I remember how much my body has given me (and continues to give me) and I decide to get into that blooming pool and splash around with my beautiful boys. Better than that, I love every second. "
She ended her spiel of positivity by stating: "Don't let your body hold you back, whatever your shape and size. Don't judge or compare. Be you... be the best you in that moment."
Giovanna has always fought to encourage body positivity, and has posted many inspirational images on her social media urging others to love themselves for who they are.
The busy star also regularly shares her parenting wins, fails and learns with her thousands of social media followers, making her one of the U.K's most-loved celebrity mums.
Tom and Giovanna, who are self-confessed Disney super fans, are currently enjoying a family trip to Disneyworld in Florida with their two sons Buzz, 4, and Buddy, 2.
WATCH! Giovanna answers your play date questions: